One commentator watching Russia's May 9 piece of military theater in the heart of Moscow Tuesday morning opined that in the absence of a concrete ideology in 21st-century Russia, Vladimir Putin has attempted to build a unifying theme, almost cult-like, around the legacy of the victory over Nazi Germany. His big annual parade with tanks and soldiers in perfect formation is the set piece promotion of this glorious past. But the past is the past.  
The Soviet Union had communism as a battle cry once upon a time. The West rallies around the theme of democracy. The question has been asked, "What does Russia offer these days? Nationalism?"
Over the years, diehard patriots have cherished the gleaming May 9 military parades staged around the country, with all of Russia's military hardware on display, while the indifferent didn't seem to pay much attention. But that changed after Russia attacked Ukraine and one award-winning Russian artist felt compelled last year to rain on (or literally cloud over) Putin's parade.
US PROVIDING UKRAINE $1.2B IN MILITARY AID AHEAD OF EXPECTED SPRING OFFENSIVE AGAINST RUSSIA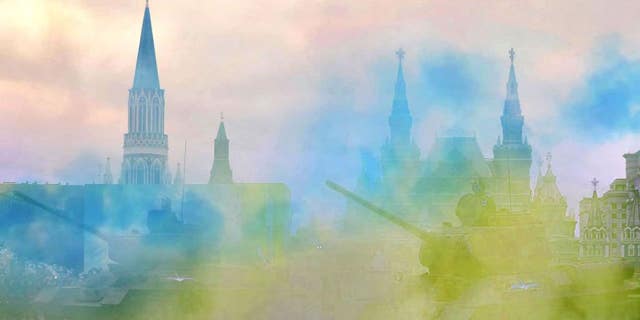 "When the full-scale invasion of Ukraine began, I realized that all my activities as an artist would be related to war. And I started to think about what I could do as an artist. And one of my ideas was to disrupt the military parade in Moscow on May 9, because it is a symbol of military aggression and today it is an important part of Russia's propaganda," Danila Tkachenko tells Fox News.
Tkachenko rented an apartment close to Red Square for the execution of his plan and stuffed 140 blue and yellow smoke bombs into an air conditioning unit he installed to face the parade route, rigging this souped-up smoke machine to his cellphone and the internet so that he could get out of harm's way before letting it rip. But it never did rip, even after he activated the system remotely watching events unfold on live TV from afar.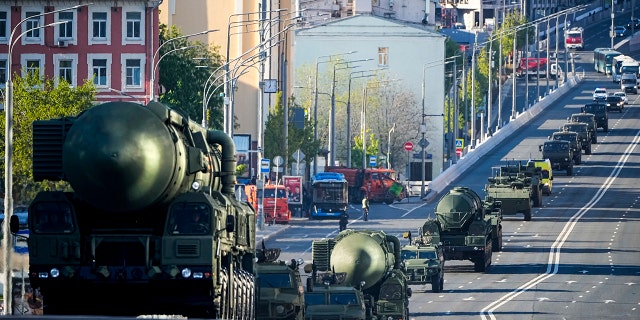 "I saw on live TV the police working right near where the smoke bombs had been installed. And I realized they had managed to prevent my action," Tkachenko said. 
I remember reading about the foiled plot that day last year. If Tkachenko's sabotage had gone off as planned, there would have been a sort of Ukrainian flag floating in the air over the lines of leg-swinging Russian soldiers, the defense minister cruising upright in his open car, and the tanks moving silently through the streets of the capital.
An ephemeral Christo-style installation but with a lasting effect – wrapping Red Square in blue and yellow. Tkachenko says as a consequence of this plot that never went off is the security services went on to harass family members and overturn his apartment. What pains him most is that they arrested a friend of his who had nothing to do with the plot. He is now doing community service for his trumped-up sins, according to Tkachenko.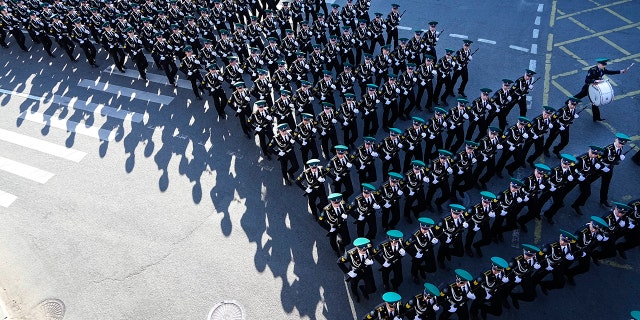 REPORTER'S NOTEBOOK: IN RUSSIA 'THERE IS NO SUCH THING AS SUPPORT IN A NON-FREE SOCIETY'
In exile, in Italy, Tkachenko remains wanted by Russia, he says, but he continues his activism and has been doing some anti-war work with Ukrainian photojournalists. He believes resistance in Russia is active yet hidden.
"It involves a lot of different organizations that work underground like guerrillas. They are relatively successful in setting fire to military registration and enlistment offices, targeting trains, disrupting logistics, looking for people involved in this war," he says. And society, Tkachenko believes, has changed a lot in this year. 
"Everyone had long been in such a state, thinking that this government will last forever and nothing can be changed," he says. "But despite the situation, the war is so brutal it actually gives us hope that things may change, the regime in Russia may change and perhaps stop colonizing people. I personally have more hope now that this regime will soon collapse now than I did before Feb. 24."
So while he is not in Russia to cook up another plot to disrupt on May 9 this year, he reflects on the situation.
CLICK HERE TO GET THE FOX NEWS APP
"My thoughts are that I hope Ukraine will soon liberate its territories. Victory is coming soon. I think people in Russia understand that the war is lost. And I think that now different men in the security services are fighting over the division of power. I hope this will be the last May 9 of Putin's Russia."