NASHVILLE – Athletes must refuse to compete against transgender girls to ensure sports go back to being fair and reserved for biological females, former NCAA swimmer Riley Gaines told Fox News. 
"We have to have girls who, when the whistle blows, they don't run, they don't swim. They stand up on the block and they don't go," said Gaines, who swam for the University of Kentucky.
"It's unfortunate, of course, to ask women to make that sacrifice because these are their sports, they should be entitled to playing," she added. "They shouldn't have to give up anything to get changes."
Since tying for fifth with transgender University of Pennsylvania swimmer Lia Thomas in the 200-meter NCAA championship last year, Gaines has advocated that women's sports must be reserved for biological females. But more athletes will be robbed of their titles before enough people stand up and demand change, Gaines said.
RILEY GAINES ON FUTURE OF WOMEN'S SPORTS:
WATCH MORE FOX NEWS DIGITAL ORIGINALS HERE
"I think people are really beginning to get fed up with this," Gaines said. "I think initially, maybe two years ago, maybe we thought we could coexist and that we could allow trans women into our spaces because we could be inclusive."
"But now we're seeing, of course, that doesn't work," she added. 
In the 2022 NCAA championship, Thomas swam in three final heat races and won the 500-yard freestyle. CeCé Telfer was the first transgender athlete to win an NCAA title, taking gold in the 2019 Division II Track and Field 400-meter hurdle. And on Sunday, American Austin Killips became the first transgender cyclist to win an official Union Cycliste Internationale race, the Tour of the Gila.
"I think this will get worse before it gets better," Gaines said. "How many girls have to be injured playing against a male, how many girls have to lose out on scholarships and trophies and titles? How many girls have to feel violated in the locker room?" 
KATIE PORTER, PIERS MORGAN CLASH OVER RILEY GAINES' EFFORTS TO KEEP WOMEN'S SPORTS FAIR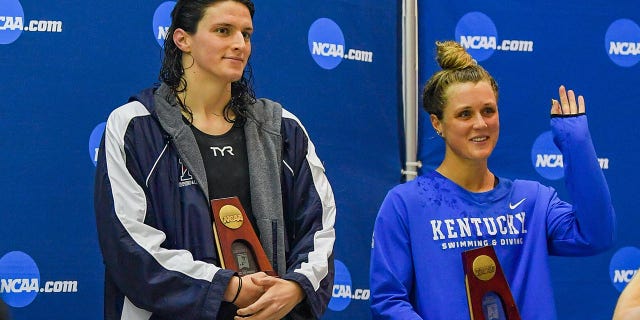 In 2019, four Connecticut high school track runners filed a federal discrimination complaint alleging that transgender athletes' participation to compete in the girl's league robbed them of titles and scholarship opportunities, but the case was dismissed since the transgender students had graduated. A North Carolina high school volleyball player, Payton McNabb, last month said she suffered a concussion, a neck injury and partial paralysis from a ball spiked by a transgender athlete on the opposing team, taking her out for the remainder of her senior season.
Following last year's NCAA swimming finals, Gaines expressed discomfort after she said she was exposed to Thomas' "male genitalia" in the women's locker room after the meet.
"How many girls have to go through this before they make changes?" Gaines told Fox News. "Because the argument we're seeing now is, 'oh, it's not really happening,' or 'it's just high school, middle school sports, it's not that deep.'"
"Both of those are insensitive and untrue," she said.
A 2022 study by the International Journal of Environmental Research and Public Health found that even years of hormone replacement therapy can't undo all physiological advantages transgender women have over biological females. Some researchers, however, argue that there isn't sufficient evidence to prove that an advantage exists after transition.
Last month, the Republican-controlled House passed the Protection of Women and Girls in Sports Act, a bill that would allow only biological females to compete in women's sports that receive federal funding under Title IX, but Democrats blocked it in the Senate. 
"MAGA Republicans are trying to sensationalize an issue that doesn't really exist in the way that they are falsely portraying," House Minority Leader Hakeem Jeffries told reporters.
Gaines pushed back on the Democrat's claim.
RILEY GAINES PUSHES BACK ON LIA THOMAS' REMARKS ABOUT FEMINISM: 'IT JUST BLOWS MY MIND'
"To say this isn't existing is to deny the facts in front of our faces," she said. "This is happening at all levels, all states, all sports, all ages. My experience is becoming less and less unique by the day."
Gaines, now a spokeswoman for the Independent Women's Forum, has become a central figure in the heated political battle over transgender inclusion in women's sports. 
"Obviously this issue has become somewhat of a political issue, which is unfortunate because sports should never be political," she said.
She said her goals, like stopping proposed changes to Title IX, are intended to protect women's spaces.
RILEY GAINES ON WHAT FEMINISM MEANS TO HER: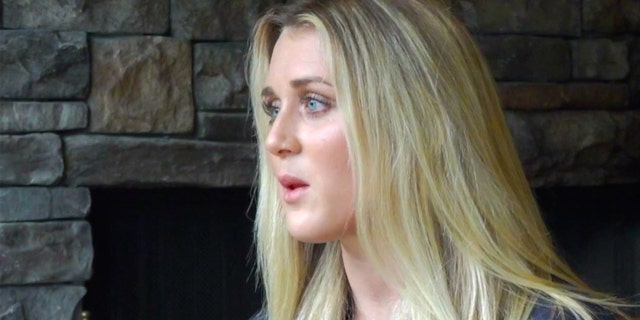 "This whole gender ideology propaganda movement is specifically harmful to women and children," Gaines told Fox News. "I think they're starting to get fed up. It's, of course, scary to step on toes and ruffle feathers, but that's exactly what we need in order to make changes."
CLICK HERE TO GET THE FOX NEWS APP
As more trans athletes compete against women at elite levels, the former NCAA swimmer said she is hopeful more coaches, parents, medical professionals and athletes will speak out in defense of women. 
"In five, 10 years, if this isn't fixed, one male winning a national title among the women will quickly turn into three and five and 10 and so on," Gaines told Fox News. 
"I think people are beginning to realize this," she added. "I think the tides are beginning to turn. I'm hopeful."
To watch the full video with Gaines, click here.