A tourist in Italy went viral after she was caught on camera climbing across Rome's historic Trevi Fountain to fill up her water bottle.
Video shows a woman in a blue shirt and baseball hat balancing on stones as she holds a water bottle under the Trevi Fountain in an attempt to fill it, eventually crossing back over the stones to the edge of the fountain and jumping down. Once there, she appears to be taken into custody by a security guard.
The moment went viral after it was filmed by witness Lex Jones last month, who said the incident took place during a busy time at the popular attraction and left onlookers stunned. Jones explained to Storyful that there were signs warning tourists against climbing or touching the fountain, though those warnings were seemingly disregarded by the woman.
A GUIDE TO VISITING ROME: HOW TO PREPARE FOR TRAVEL AND MUST-SEE SPOTS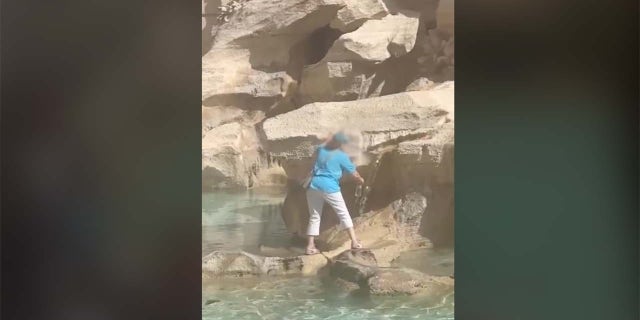 "There were signs all over saying that's not allowed," Jones said. "I was just like, wow, this is crazy, so I started videoing it."
The tourist apparently even attempted to plead her case to security after climbing down from the fountain, but was escorted away.
"[The woman] kept trying to explain her side and didn't really understand why she was in trouble," Jones said.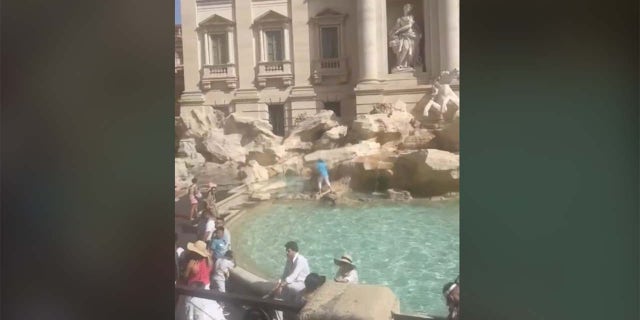 HOW TO SPOT HIDDEN SURVEILLANCE CAMERAS IN YOUR AIRBNB, VRBO, AND VACATION RENTALS
According to Lonely Planet, a website providing tourists with guides to various travel destinations, the Trevi Fountain is one of Rome's most famous attractions. The site hosts thousands of visitors a day, with many participating in the tradition of throwing a coin in the water that ensures they will return to Rome.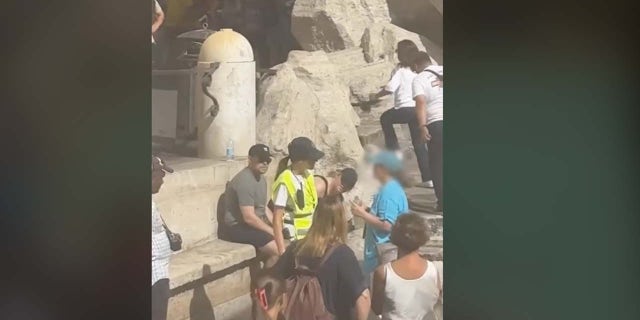 Roughly $3,250 is thrown into the fountain daily, according to Lonely Planet.
CLICK HERE TO GET THE FOX NEWS APP