Wrexham, the soccer team owned by Ryan Reynolds and Rob McElhenney, is set to return to the fourth division for the first time in 15 years.
Reynolds took Hollywood to Wrexham with the docuseries "Welcome to Wrexham" which turned the team's players and coach into household names.
The team is now preparing to begin a tour across the United States, where they will play in North Carolina, California, and Pennsylvania.
Ryan Reynolds has already taken Hollywood to Wrexham. Now the Welsh soccer team is on its way to Tinseltown.
The club, which was down on its luck and languishing in the fifth tier of English soccer before being given the A-list treatment by Reynolds and co-owner Rob McElhenney, is embarking on a U.S. tour this month, when fans of the globally-streamed docuseries "Welcome to Wrexham" will get to see its unlikely stars in the flesh.
The series has made household names of the likes of manager Phil Parkinson, a coach who has spent his entire career in the lower levels of the sport.
Likewise Paul Mullin, a striker who has never been close to playing in the Premier League but is getting a taste of David Beckham-levels of exposure courtesy of being featured on Reynolds' Instagram feed, which has 49 million followers.
WREXHAM'S RYAN REYNOLDS JOKES ABOUT PLAYER NEEDING TO WEAR SHIRT AROUND WIFE BLAKE LIVELY
Wrexham will play games against Chelsea, Manchester United, LA Galaxy II and Philadelphia Union II at venues in North Carolina, Los Angeles, San Diego and Pennsylvania.
While it is a chance to get up to speed before the team returns to the fourth division for the first time in 15 years, it is also an opportunity to build on its fanbase in the United States.
Because, with Wrexham, it is about more than soccer. It had to be if Reynolds and McElhenney were to generate the level of interest required to make their ownership more than just a self-funded passion project.
Their $2.5 million takeover in 2021 has been followed with relatively big-money signings and investment into the stadium, leading up to a long-awaited promotion last season. But more money will be required to build on that success. Beyond its loyal supporter-base in Wrexham, it is relying on the star appeal of its owners and ongoing interest in "Welcome to Wrexham" to bring in sponsors like TikTok and others.
Many other fourth-division teams could only dream of drawing in such big-name commercial partners.
Deals with United Airlines, Stok and Betty Buzz have been announced since promotion and are evidence that Reynolds and McElhenney are successfully getting their message beyond the field. The second series of "Welcome to Wrexham" is also eagerly anticipated, particularly given the dramatic fashion by which the team secured promotion, with a 3-2 win against Notts County in the final weeks of the campaign proving pivotal.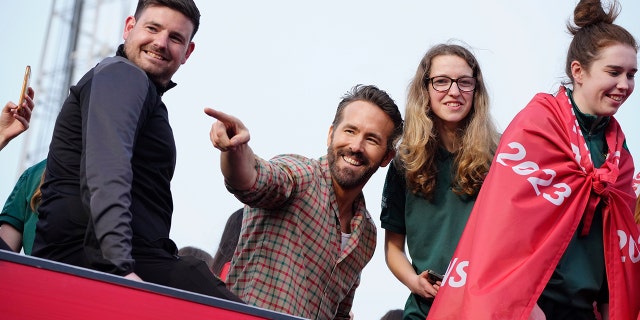 Former Manchester United goalkeeper Ben Foster, now 40, was the hero that day with a penalty save in added time. He had been convinced to come out of retirement just weeks earlier and has since signed a one-year contract to extend his playing career.
RYAN REYNOLDS AND BLAKE LIVELY'S KIDS ARE 'READY' FOR THEIR NEW SIBLING
"At the end of last season it was obvious that I enjoyed being at the club, I loved being part of the team and everything that Wrexham stands for," Foster said. "I'd decided before the end of last season I wanted to do it, because it feels like home."
Foster, who has embarked on a promising podcast and YouTube career since his original retirement, has also benefited from being associated with Hollywood royalty. A video of the celebrations after the game that earned promotion, including Reynolds congratulating Foster outside the locker room, has had more than 4.2 million views.
The party went on with Reynolds and McElhenney joining in on an open-top bus parade of Wrexham before the squad was flown to Las Vegas for more fun.
Now it's back to business.
Promotion from the National League was secured with players like Mullin, who had been convinced to drop down to a lower level with the lure of the finances and the once-in-a-lifetime project put together by two Hollywood stars learning the ropes of sports team ownership.
CLICK HERE TO GET THE FOX NEWS APP
The goals should still flow for Mullin even in the fourth division — but it is undoubtedly a step up in class. Back-to-back promotions cannot be guaranteed.
Reynolds and McElhenney have already demonstrated their ambition and the idea of languishing in the fourth division is unlikely to fit in with their vision for Wrexham. Nor is it likely to sustain the interest of viewers streaming the documentary.
It may be too much to expect regular matches against the likes of Manchester United and Chelsea any time soon. But with two Hollywood stars writing the script, Wrexham fans might think anything is possible.