The New York Giants and Saquon Barkley failed to agree to a contract extension, and if the superstar running back is going to play during the 2023 season, he will have to play on the franchise tender.
The lack of a new deal for Barkley came to a shock to Giants fans and other NFL watchers. According to the New York Post, the Giants' final offer was for three years and around $11-11.5 million per year with guarantees of around $22-23 million. 
CLICK HERE FOR MORE SPORTS COVERAGE ON FOXNEWS.COM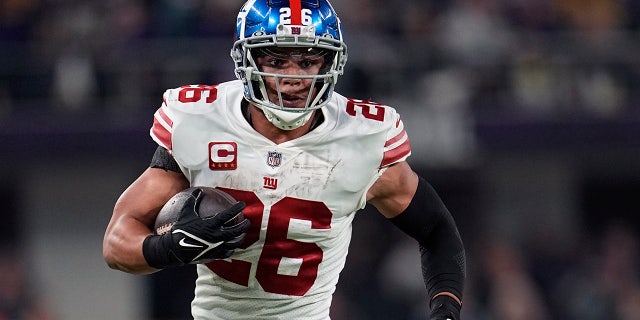 The numbers were reportedly within $1-2 million on both ends of the running back's asking price.
"It is what it is," Barkley wrote on Twitter on Monday as the deadline to come to a long-term agreement passed.
Barkley was unhappy about being tagged from the get-go. New York tagged Barkley and then came to a long-term agreement with quarterback Daniel Jones.
The running back had his best year yet in 2022. It was the first time he played at least 16 games in a season since his rookie year. He ran for 1,312 yards with 10 touchdowns. He also had 57 catches for 338 yards. He was a Pro Bowler for the second time in his career.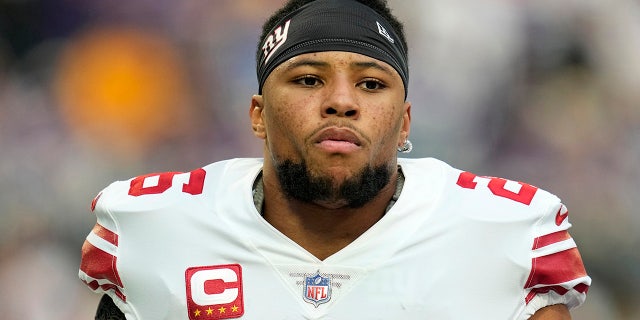 NFL RUNNING BACKS SOUND OFF AFTER SAQUON BARKLEY, JOSH JACOBS FAIL TO REACH LONG-TERM DEALS: 'KIND OF TRASH'
He talked about the negotiations in June.
"As I have previously stated, I'm not looking to set any contract records. I'm not demanding to be the highest-paid player at my position," Barkley told ESPN.
"I understand the market. My goal is just to be compensated respectfully based on my contributions to the team on the field and in the locker room. I've been in talks with the Giants throughout the offseason. If at some point there's a deal that is fair to both sides on the table, I'll be ready to sign."
Should he sign the tag, Barkley will make $10.1 million and will be among the highest-paid running backs as it is.
CLICK HERE TO GET THE FOX NEWS APP
San Francisco 49ers' Christian McCaffrey ($16 million), New Orleans Saints' Alvin Kamara ($15 million), Tennessee Titans' Derrick Henry ($12.5 million) and Cleveland Browns' Nick Chubb ($12.5 million) are the top earners among running backs.
The Associated Press contributed to this report.