Warriors point guard Stephen Curry is a two-time NBA MVP and is widely regarded as one of the best ball handlers and three-point shooters in basketball history.
Whenever a player is tasked with playing defense on Curry, they are typically in for a challenge, even if that defender is all-time great LeBron James.
In the second quarter of Game 1 of the Western Conference semifinal game between the Warriors and Lakers, James was seen talking with Curry as he walked to Golden State's bench.
CLICK HERE FOR MORE SPORTS COVERAGE ON FOXNEWS.COM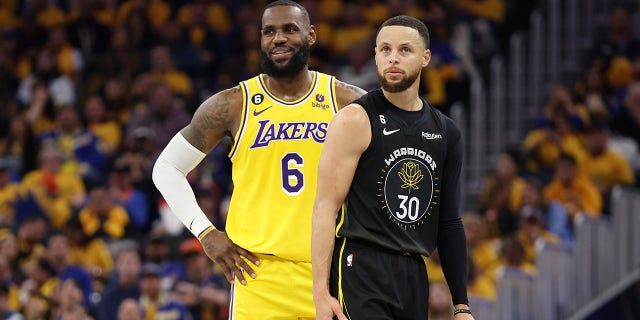 The interaction between the two superstar players happened with around 7:23 remaining in the first half. Curry provided some more context about what took place during a postgame media session.
"He was just joking around about having to guard me until I got all the way to the bench," Curry explained.
KNICKS TAKE ADVANTAGE OF JIMMY BUTLER'S ABSENCE, BEAT HEAT TO EVEN SERIES IN GAME 2
At one point, Curry was seen shaking his head as James talked.
The Warriors bench mostly refrained from reacting to James, although Jonathan Kuminga, Gary Payton II and Kenny Atkinson appeared to smile. 
It took maximum efforts from the Lakers star players to pull of the 117-112 win over the Warriors on Tuesday night in San Francisco.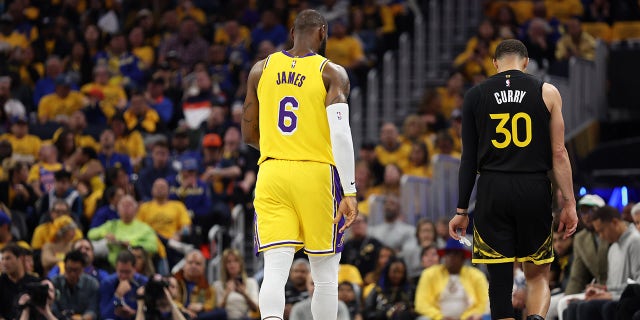 The Warriors did make a late 14-0 run. Now, the Lakers will try to take that intensity to another level when the best-of-seven series resumes Thursday night, knowing the urgency the Warriors face.
"We just locked in for 48 minutes from the start to the finish," Lakers  guard D'Angelo Russell said.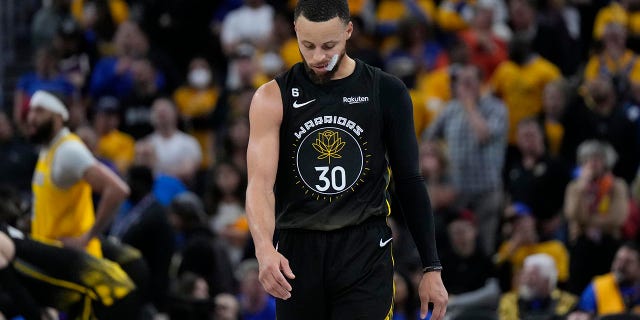 "That team's dangerous. They shoot a lot of 3s, a lot of 3s can get you back in the game when you're down by a few possessions. Knowing that they can explode at any time and get themselves back within one point or a one-possession game, whatever it may be, knowing that, every possession matters."
CLICK HERE TO GET THE FOX NEWS APP
Lakers big man Anthony Davis expects Golden State to bring it at another level when Thursday rolls around.
"It's going to be a different game," Davis said. "They're going to make adjustments, we're going to make adjustments, the building's probably going to be a little bit louder, obviously they don't want to go down 0-2. The crowd will be more into it."
The Associated Press contributed to this report.