There are more than 11 million university graduates in China that are facing a tight job market as the economy continues to recover from the coronavirus pandemic.
Temple visits are up by 310% as the unemployed youth in China seek solace through prayers.
Many Chinese graduates had to resort to gig jobs such as ride-sharing or delivery services.
Queues stretch hundreds of meters around temples in China on weekends, as despondent young worshippers pray to find jobs in an economy slowly clawing its way back from the coronavirus pandemic.
"I hope to find some peace in temples," said 22-year-old Wang Xiaoning, pointing to "the pressure of finding a job" and housing costs that are out of reach.
Wang is among a record 11.58 million university graduates who face a job market still reeling from last year's stringent "zero-COVID" lockdowns as well as crackdowns on the technology and education sectors, key traditional hirers.
MORE AND MORE OF INDIA'S ELDERLY FLOCK TO HOLY CITY TO WAIT FOR A PEACEFUL DEATH
Temple visits are up 310% so far this year compared to 2022, travel booking platform Trip.com said. While it did not give overall numbers or pre-pandemic comparisons, it said roughly half the visitors were born after 1990.
"The threshold for employment keeps rising," said Chen, a 19-year-old who was praying for her career prospects at the iconic Lama Temple in the capital, Beijing, despite being years away from graduation.
"The pressure is overwhelming," added Chen, who gave only her surname for privacy reasons.
The fifth of young Chinese without jobs among a highly-educated generation is a record. Improving their prospects is a major headache for authorities, who want the economy to create 12 million new jobs in 2023, up from last year's 11 million.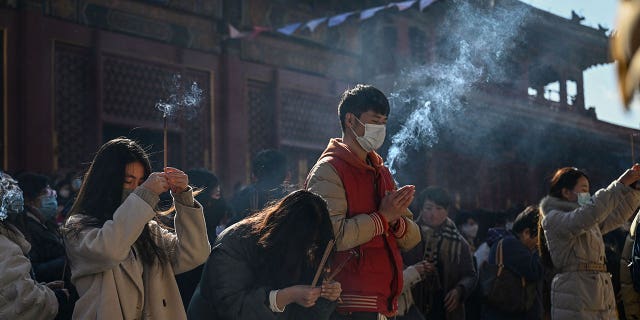 "There is a serious oversupply of university graduates and their priority is survival," said Zhang Qidi, a researcher at the Center for International Finance Studies, who added that many had resorted to ride-sharing or delivery jobs.
The economy has been recovering since COVID-19 curbs were lifted in December, but the hiring is being led by the pandemic-battered catering and travel industries, which offer poor wages for low-skilled roles.
China's education and human resource ministries did not immediately respond to requests for comment.
The number of master's and Ph.D graduates in Beijing exceeds undergraduates for the first time, education authorities said.
Job and academic anxieties were "understandable", the state-backed Beijing Daily said in an editorial in March.
"However, young people who really pin their hopes on the gods and Buddhas when under pressure are also clearly going astray."
INDIA'S RELIGIOUS DIVIDE CONTINUES TO WIDEN BETWEEN MUSLIM, HINDU COMMUNITY
'Scholarly Airs'
Many have taken to social media to compare themselves with a century-old literary figure, Kong Yiji, an unemployed alcoholic scholar from a 1919 story by the author Lu Xun. Kong believed himself too highly educated to take up menial jobs.
The meme has gone viral as users question the value society places on education if it does not guarantee them a fulfilling career.
In the coastal province of Zhejiang, a 25-year-old with a master's degree who has applied for 10 jobs a day on average since February said she felt, like Kong, "restricted" by her education.
"I don't believe I will ever find my ideal job," said the urban planning graduate, who spoke on condition of anonymity to protect her job prospects. "I've seen a psychologist a few times because I was very anxious and depressed."
She said the only offers she had received paid $290 to $435 a month or had "unreasonable" overtime requirements and she refused.
CLICK HERE TO GET THE FOX NEWS APP
"If I didn't have these qualifications, I could totally become a sales assistant in a mall and be much happier."
Yang Xiaoshan, a 24-year-old economics postgraduate in Beijing, settled for the job of a bank teller after 30 interviews. She is relieved not to follow Kong's jobless fate, but still feels unsatisfied.
"It's not that I despise customer service, but I think it's a waste of my knowledge," said Yang.
State broadcaster CCTV has scolded those drawing comparisons with Kong.
"Kong Yiji fell into difficulties … because he couldn't let go of his scholarly airs and was unwilling to change his situation through labor," it wrote on messaging app Weibo.
The comment drew angry replies.
"Why, instead of helping private enterprises develop, do you blame 11.58 million graduates for not taking off their scholar gowns?" read one post that drew more than 300 "likes".