Francisco Oropesa, a 38-year-old Mexican national, allegedly shot and killed five neighbors at their home in Cleveland, Texas, prompting a four-day massive manhunt that stretched across both sides of the border.
Authorities say additional arrests have been made in connection to the shooting that reportedly started when neighbors asked Oropesa to stop firing his rifle in his yard late at night because a baby was trying to sleep, and the suspect instead went on a bloody rampage. 
The victims have been identified as Diana Velazquez Alvarado, 21; Julisa Molina Rivera, 31; Jose Jonathan Casarez, 18; Sonia Argentina Guzman, 25; and Daniel Enrique Laso, 9.
As the investigation continues, here is a look at the timeline of events leading up to the former fugitive's capture. 
TEXAS FUGITIVE ACCUSED OF KILLING 5 WAS ILLEGALLY IN US; DEPORTED 5 TIMES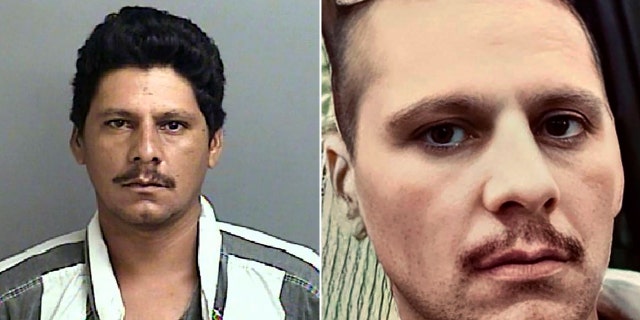 Friday, April 28
The San Jacinto County Sheriff's Office said night shift deputies were initially dispatched around 11:30 p.m. for a harassment complaint in the 100 block of Walters Road in the Trails End area of Cleveland. Oropesa had reportedly been firing off a rifle in his yard, and three people from a neighboring house asked him to stop since it was late and a 1-month-old baby was scared and trying to sleep. According to authorities and survivors, Oropesa responded something along the lines of that it was his property and he could do what he wanted.
While deputies were en route, the communications center received multiple 911 calls of an active shooter incident at the dispatched location, the sheriff's office said. 
Multiple deputies arrived at the residence and located four deceased adults. Allegiance Mobile Health arrived and requested an air medical helicopter to fly a pediatric patient to a local trauma center. He was declared dead at that hospital. San Jacinto County Sheriff Greg Capers would later say three children were found covered in blood being sheltered by two deceased women. The trio were brought to a hospital by ambulance where it was determined they had not been physically harmed. 
Montgomery County SWAT arrived to assist and cleared several properties adjacent to the crime scene and determined that the shooter had fled the area.
Two additional people inside the residence were evaluated on scene and released. A judge issued an arrest warrant for the suspect and assigned a $5 million dollar bond. 
Saturday, April 29
By daybreak, an "extensive manhunt" had not located the murder suspect wanted in the killing of five people. The sheriff's office initially identified him as Francisco Oropeza (as opposed to Oropesa) and said he should be considered armed and dangerous. Tipsters, who could remain anonymous, were encouraged to call immediately at 936-653-4367. 
Sunday, April 30
FBI Houston said the combined reward for information leading to Oropesa's arrest rose to $80,000. Of that sum, $25,000 came from the FBI.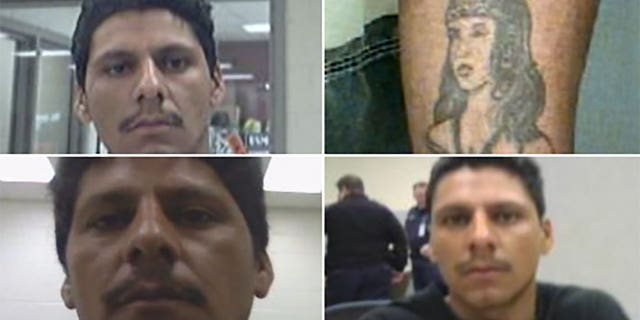 At a press conference with Capers, FBI Special Agent in Charge James Smith described Oropesa as a "monster," and pleaded for the public's assistance for any information on his whereabouts, saying "we do not have any tips right now where he may be" and stating investigators were "running into dead ends." 
Texas. Gov. Greg Abbott's office contributed $50,000 of the reward amount, and in the same statement offering condolences to the families, described the victims as "illegal immigrants." Abbott spokesperson Renae Eze backtracked Monday, saying the office learned at least one of the deceased might have been in the U.S. legally. 
On Sunday, Abbott also said he alerted DPS Director Steve McCraw and Texas Military Department Adjunct General Thomas Suelzer to alert Operation Lone Star soldiers and troopers to "be on the lookout for the criminal and any attempts to flee the country after taking the lives of five people."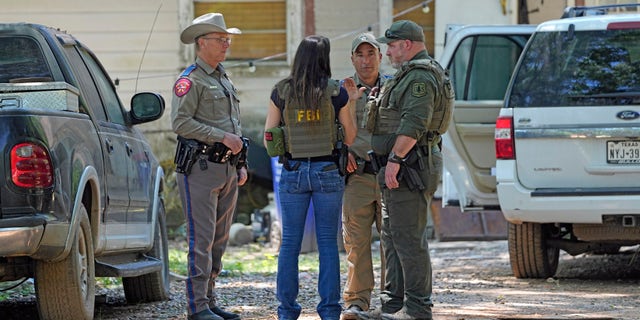 One of the survivors, Wilson Garcia, whose wife Sonia Argentina Guzman and son Daniel Enrique Laso Guzman were killed, spoke with the media in Spanish at Northside Elementary in Cleveland. That was where the deceased boy had attended the third grade, and a vigil was held their in his honor Sunday afternoon. 
Garcia recalled to reporters how he and a few others had gone to the property line and asked Ororpesa to stop firing a rifle. He said people in his household called the police five times about the gunfire. About 20 minutes later, Garcia recalled seeing the suspect suddenly run from his porch toward him while reloading. Garcia said he shouted to his wife that Oropesa had a loaded gun and the woman told her husband to get inside thinking the suspect would not fire at a woman. 
Sonia was the first fatally shot. Garcia said it appeared the gunman was intent on killing everyone.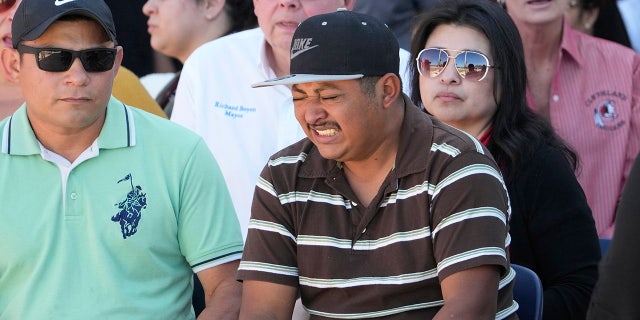 Two victims, Diana Velazquez Alvarado, 21, and Julisa Molina Rivera, 31, were killed while shielding Garcia's 2-year-old daughter and a third child. Garcia said one of the women had told him to jump out a window "because my children were without a mother and one of their parents had to stay alive to take care of them." The man said he came back though, and, "that's when the suspect shot at me. He shot at me five times in the house. When he didn't catch me, he returned to gun them down again, and he shot them in the head." 
SURVIVOR WHO LOST WIFE, SON IN DEADLY CLEVELAND, TEXAS, SHOOTING SPEAKS OUT: 'HE SHOT THEM IN THE HEAD' 
Another survivor, Jefrinson Rivera, sat down with FOX 26 Houston and recalled how the gunman pointed the gun right at him. "He told me, 'I was looking for you. I'm going to kill you'," Rivera recalled. The two men said they threw a machete at Oropesa, who then fled the scene. 
More than 250 law enforcement officers from over a dozen agencies were actively searching for Oropesa as of Sunday evening. 
The FBI in Houston said in a tweet on Sunday that it was referring to the suspect as Oropesa, not Oropeza, to "better reflect his identity in law enforcement systems." His family lists their name as Oropeza on a sign outside their yard, as well as in public records.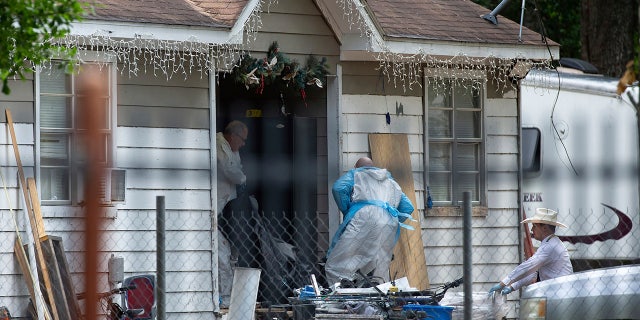 Monday, May 1
A heavy presence of police converged in neighboring Montgomery County after a possible sighting of the suspect, but the sheriff's office there later said none of the persons were found to be Oropesa. 
A few hours later, the department reported another possible sighting, tweeting that several schools had "secured their campuses" and again asked residents to avoid the area. That search too turned up empty. One of the sightings happened around Highway 105 and involved 30 vehicles and a helicopter searching for Oropesa, who was spotted on foot running, but authorities lost track of him. Chief Deputy Timothy Kean, second in command at the San Jacinto County Sheriff's Office, confirmed this by saying it was "not a false alarm."
Both were among the first times since the shooting that authorities had announced a possible sighting.
Tuesday, May 2
Earlier in the day, FBI Houston had said Oropesa "could be anywhere," and that the bureau was working with law enforcement agencies "across the state, country and across the border," leaving "no stone unturned." Billboards in English and Spanish advertising the $80,000 reward for information were plastered around Houston. 
Later, FBI Houston and Capers announced that Oropesa had been captured. He was arrested at around 6:45 p.m. at a home in Conroe, Texas, after the FBI received an anonymous tip with his location, FBI Houston tweeted. In a Facebook post, the sheriff's office said Oropesa was taken into custody in Cut and Shoot – a city in eastern Montgomery County, Texas, about six miles east of Conroe and 40 miles north of Houston, by Task Force agents. That followed an "extensive and exhaustive 4-day manhunt involving more than 250 law enforcement officers, multiple local, state and federal agencies and numerous volunteers." Oropesa was transported and booked into the Montgomery County Jail without incident. 
He will go before a magistrate then brought back to the San Jacinto County Jail where he will be held on a $5 million dollar bond, the sheriff's office added. 
Wednesday, May 3
Kean hosted a press conference outside the jail where Oropesa is being held. He said additional arrests have been made in connection to the Friday night shooting but declined to confirm how many or provide added details. 
CLICK HERE TO GET THE FOX NEWS APP 
The Associated Press reported that one of those arrests was Oropesa's wife, identified as Divimara Lamar Nava, who was being held at Montgomery County Jail. 
Kean said that a judge would set bond for Oropesa at the San Jacinto County Jail later Wednesday morning. It was expected to be $5 million. 
The Associated Press contributed to this report.