Interior Secretary Deb Haaland defended her decision to shut down a Minnesota critical mineral mine, saying that there were already a lot of jobs available for Americans.
Haaland's remarks came in response to a question about her decision this year to ban mining across 225,504 acres near Duluth, Minnesota, from Sen. Josh Hawley, R-Mo., during a Senate Energy and Natural Resources Committee hearing Tuesday afternoon. Hawley criticized the decision, highlighting the expected positive economic impacts of the project which its developer said would create more than 1,000 jobs.
"Your decision to trade off our energy security in favor of a radical climate change agenda is making us more and more dependent on China. And, at the same time, you are blocking permits for mines in this country," Hawley said.
"The jobs for blue collar workers in this nation are valuable resources. The livelihood and well-being of American families are valuable resources," the senator continued. "The ability of America to have our own industry and not be dependent on China is a valuable resource. Why should those things for millions of Americans be sacrificed in favor of your agenda for radical climate change?"
BIDEN HANDS ENVIRONMENTALISTS MAJOR VICTORY IN FIGHT AGAINST MINING, OIL DRILLING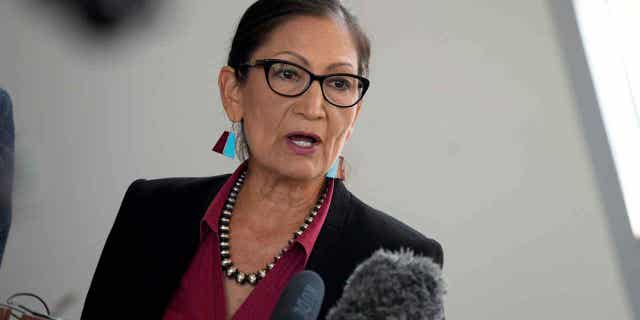 Haaland then responded, noting the high number of job openings nationwide.
"Senator, I know that there's like 1.9 jobs for every American in the country right now. So, I know there's a lot of jobs," Haaland told Hawley.
"Wait a minute, wait a minute, wait a minute, wait a minute," Hawley then said. "You're telling me we've got too many jobs in the country?"
"Well, I'm saying that we don't have enough people," the interior secretary responded. "That's why we are having a hard time finding folks to work at our department."
BIDEN TURNS TO COUNTRY WITH DOCUMENTED CHILD LABOR ISSUES FOR GREEN ENERGY MINERAL SUPPLIES: 'IT'S EGREGIOUS'
According to the latest data released Tuesday by the Department of Labor, the U.S. has roughly 9.6 million job openings. The figure translates to about 0.6 unemployed persons per job opening, the data showed. 
Hawley heavily criticized Haaland's comments, saying entire Midwestern communities like those he represents in Missouri have been decimated as a result of decisions that exported jobs overseas. He said more than three million such jobs have been exported to China.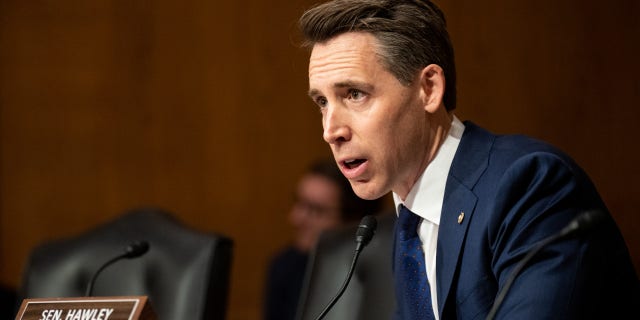 "They are blue collar workers. And you're sitting here and telling me that we have too many jobs in this country. Are you serious?" he continued.
"I want to take the strongest possible exception to that comment and that entire mentality which I think is very honest. I think it reflects the mentality of your administration which is, when it comes to blue collar workers in this country, 'you're on your own. Good luck.'"
BIDEN ADMIN MOVES TO SHUT DOWN ANOTHER MINE OVER ECO CONCERNS AMID GREEN ENERGY PUSH
Hawley added that Haaland's remark might be "the most unbelievable statement I have heard from a member of this administration."
Haaland, though, later said that the Interior Department under her leadership has created jobs through a program to cap abandoned oil and gas wells.
"These are communities that rely on this government to find a way forward for them," she said. "There is, unfortunately, a dearth of legacy pollution in this country. Those are jobs, good paying, well-paying jobs with benefits that Americans are having because of President Biden and his policies."
"We're proud to move those issues and those programs forward for the American people."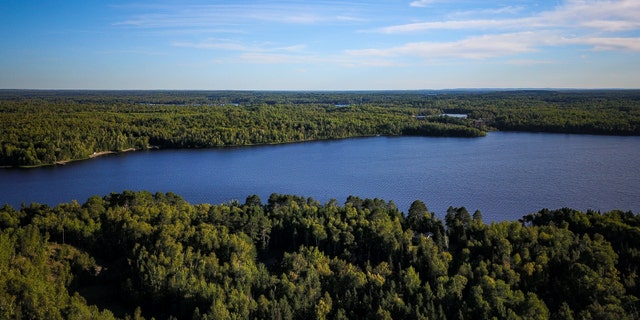 In January, Haaland announced the 20-year withdrawal of lands in the Boundary Waters Canoe Area Wilderness and surrounding area in Minnesota for mineral leasing, citing environmental concerns. The decision came about a year after she canceled two leases held by the firm Twin Metals Minnesota, which had both been located in the Superior National Forest outside the wilderness area.
CLICK HERE TO GET THE FOX NEWS APP
The Twin Metals' mining project contained about 88% of the nation's cobalt reserves in addition to vast copper, nickel and platinum-group elements. Such critical minerals are vital for various green energy technologies like electric vehicle batteries, battery storage facilities, solar panels and wind turbines, which the Biden administration has aggressively pushed.
And a project labor agreement Twin Metals signed with the Iron Range Building and Construction Trades Council for the mine promised 750 direct full-time jobs and 1,500 spinoff jobs.
Fox News Digital Production Assistant Emily Robertson contributed to this report.