Schools and the stock market were closed in Hong Kong on Monday as Typhoon Talim swept south of the city.
As the financial hub braced for rainy and windy weather, more than 100 people sought refuge at temporary shelters. Some government and ferry services were halted and various events were postponed. The city's airport authority said 16 flights were canceled.
The Hong Kong Observatory raised a No. 8 typhoon signal, the third-highest warning under the city's weather system, early Monday. It was the first warning of its kind issued this year.
GUAM 'VERY BLESSED' AS TYPHOON MAWAR LEAVES WITH NO REPORTED DEATHS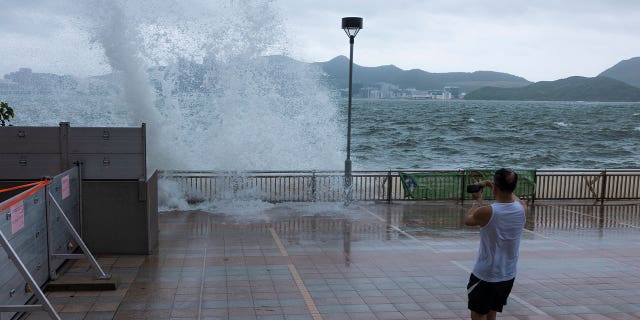 CLICK HERE TO GET THE FOX NEWS APP
As Talim — with maximum sustained winds of 87 miles per hour — gradually moved away from Hong Kong in the afternoon, the observatory downgraded its warning for the city.
China's National Meteorological Center forecast the typhoon would make landfall in neighboring Guangdong province and Hainan province on Monday night before entering the Gulf of Tonkin and striking land again in the Guangxi region on Tuesday. Talim is expected to weaken on Wednesday in Vietnam, it said.
In Hong Kong, the government received 32 reports of fallen trees and two reports of floods. Residents were urged to stay away from the shoreline, the observatory said.