The Ukrainian government on Wednesday launched a new initiative meant to streamline and promote innovation in the development of drones and other technologies that have been critical in the war with Russia.
As part of the initiative dubbed BRAVE1, the government hopes to bring state, military, and private sector developers working on defense issues together into a tech cluster that would give Ukraine a battlefield advantage.
"Considering the enemy that is right next to us and its scale, we definitely need to develop the military tech so that we can defend ourselves," Mykhailo Fedorov, Ukraine's minister of digital transformation, said.
Fedorov told The Associated Press ahead of Wednesday's official announcement that the government had earmarked more than 100 million hryvnias (about $2.7 million) to fund projects that have the potential to help Ukraine win the 14-month conflict.
"There are many people on the battlefield now of the young generation that can work with technologies, and they need them," he said.
The name of the defense tech cluster refers to Ukraine's bravery in the war that Russia started, Defense Minister Oleksii Reznikov said during the presentation.
He said Ukraine is striving for independence in its military capability and BRAVE1 can be a step toward achieving it. Last week Reznikov met with defense leaders from around the globe in Germany to coordinate additional military aid to Ukraine.
CHINA TO SEND PEACE ENVOY TO UKRAINE, XI TELLS ZELENSKYY IN CALL
"We must not be dependent on the free will of our partners," he said. "We have to invest resources into our independence so that we can defend ourselves on our own."
The presentation was held in an underground parking lot and featured some of the Ukrainian technologies already being used on the battlefield, such as unmanned ground vehicles, robotic systems to identify landmines and unmanned aerial systems.
Both Ukraine and Russia make frequent use of unmanned aerial vehicles for reconnaissance and in attacks. Russia extensively uses Iran's long-range Shahed-136 exploding drones, to damage Ukrainian power plants and instill fear in civilians. The Ukrainian government launched a public fundraising drive last year asking foreign donors to help it build an "army of drones."
The Moscow-appointed head of the port city of Sevastopol in Crimea, Mikhail Razvozhayev, reported this week that Russian forces destroyed a Ukrainian sea drone that attempted to attack the harbor and another one blew up. Ukrainian officials stopped short of openly claiming responsibility, as they had done after earlier attacks on Crimea, which Russia annexed in 2014.
Oleksandr Kviatkovskyi, a board member of robotic and netcentric military innovation nonprofit Aerorozvidka, sees BRAVE1 as a platform the military can use to communicate its electronic warfare needs and provide strategic support to the military technology industry.
"Even one year to develop a product, it's a very short time," he said.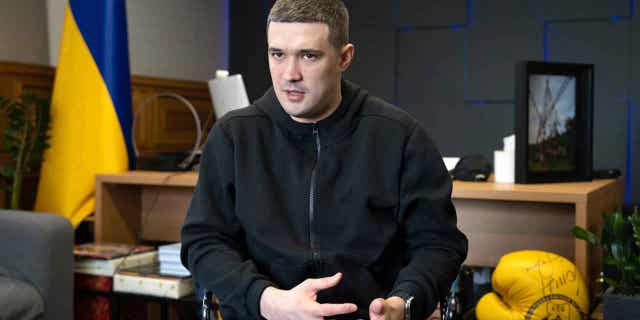 However, Kviatkovskyi isn't sure that such platform can create a significant boost for development of war technologies.
UNITED NATIONS CONDEMNS 'SUMMARY EXECUTION OF PRISONERS OF WAR' BY BOTH RUSSIA, UKRAINE
"Even if it does, it will be minimal," he said. "Few things can be more effective than the boost created by the tanks near Kyiv," he said, referring to how Ukrainian forces prevented Russian troops from storming the capital during the first weeks of the war.
Fevzi Ametov, a Ukrainian soldier and co-founder of Drone.ua, a company that specializes in drones, said businesses and their engineers already try to incorporate feedback from military personnel into their products.
"Any assault without drones, right now, it's like going blind into a minefield, and you don't know what is waiting around the corner," he said. "Technologies help save lives."
Ametov said Ukraine was investing many more resources in military technology than it did before Russia's invasion. He based his assessment on the various models of drones his unit has tried out.
"We always have something new to test, to understand if it's needed for our unit or not," he said.
Ametov, who is originally from Crimea, fights on the Ukraine war's front line while still involved in running his company, which expects to play an advisory role in the BRAVE1 initiative.
His company distributes a portable anti-drone gun that uses radio signals to jam drones and to bring them down. According to Ametov, Ukrainian forces are using hundreds of the $12,000 guns, which can run for up to 30 minutes on a single fully charged battery, "with more and more coming."
CLICK HERE TO GET THE FOX NEWS APP
"Every side is trying to use as many drones as possible," Ametov said. "When you are staying at the position, this is the only way to protect yourself from the drone."
For now, Ukraine and Russia are about on par in their ability to employ drones, according to Fedorov. But when facing an enemy that has more troops and equipment, Ukraine must strive for technological superiority, he said.
"No matter how much enthusiasm you have to defend your country, you just physically cannot do it," the minister said.
"That's why it's important to build institutions, so we can convert the energy of all volunteers, businesses and active citizens into concrete big projects that will continue to work for decades," he said.