Vigilantes in Port-au-Prince, Haiti, have taken it upon themselves to fight off the Caribbean nation's onslaught of gang violence, with a mob having burned 13 suspected gangsters to death Monday.
Understaffed and overwhelmed police have done little to insulate civilians from the growing crisis.
"We are planning to fight and keep our neighborhood clean of these savages," local mechanic Jeff Ezequiel told The Associated Press. "The population is tired and frustrated."
Armed with machetes, bottles, and rocks, residents in the hilly suburbs of Haiti's capital fought back against encroaching gangs Tuesday, a day after a crowd burned 13 suspected gangsters to death in a gruesome outburst of vigilante violence.
Tired of relying on an understaffed police department, scores of men in the Canape Vert neighborhood of Port-au-Prince spent the night on roofs and patrolled entrances of their community blocked with big trucks spray-painted with the words, "Down with gangs."
"We are planning to fight and keep our neighborhood clean of these savages," Jeff Ezequiel, a 37-year-old mechanic, told The Associated Press. "The population is tired and frustrated."
MOB IN HAITIAN CAPITAL BURNS 13 SUSPECTED GANGSTERS TO DEATH
The makeshift brigade is the latest example of growing attempts by Haitians to fight gangs on their own. Earlier this year, people elsewhere in Port-au-Prince and in the central Artibonite region, which has been hit by heavy gang violence, have lynched several suspected gang members.
Until now, Canape Vert and nearby Turgeau — the site of a major hotel chain and a local university — had largely avoided the gang-fueled violence that has been consuming the capital and surrounding areas since the July 2021 assassination of President Jovenel Moïse. The United Nations estimates that gangs now control up to 80% of Port-au-Prince.
"Gang expansion into areas previously considered safe…has been alarming," according to a U.N. Security Council report released on Tuesday.
Reported killings from January to March 31 have risen by more than 20% compared with the last quarter of 2022, and 637 kidnappings have been reported so far this year, an increase of 63% compared with the last three months of 2022, the report stated.
Meanwhile, Haiti's National Police has 1.2 officers per 1,000 inhabitants in this country of more than 11 million people.
"The police remain under resourced and face overwhelming odds in their struggle to keep gangs from tightening their grip on the country," the U.N. report said.
On Monday, U.N. Secretary General António Guterres urged the immediate deployment of an international armed force to Haiti — a request Haiti's prime minister first made in October last year — and warned in a report that violence in Port-au-Prince "has reached levels comparable to countries in armed conflict."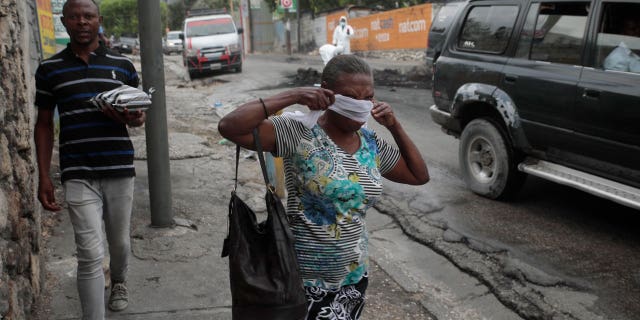 More than 130,000 Haitians have fled their neighborhoods as gangs break into homes, kill and rape residents in a fight to control more territory, and nearly 40% of them are now living in makeshift shelters lacking basic services, according to the U.N.
But on Tuesday, many in Canape Vert returned to their homes after temporarily fleeing the area on Monday when the 13 suspected gang members were killed.
"There's nowhere to run," said Samuel, 25, who declined to give his last name out of fear of being killed. "We have to stand and fight back. If there has to be a war, I will be part of it, because authorities are not taking responsibility and are letting everyone die under their eyes."
He was walking back to his home Tuesday along with other residents, including Sandra Jenty, 26, who took shelter under her bed with her 4-year-old son on Monday night, losing control of her bladder as gunshots rang out in her neighborhood before she fled around dawn.
"It felt like they were shooting inside of my house," she said. "I'm not hurt by the grace of God."
She cradled her son as they walked back to their house, with Jenty confident that the makeshift neighborhood brigade would protect them. Meanwhile, authorities dragged one body of a suspected gang member along the pavement and into a van for removal. It was one of 13 suspected gang members who had been killed with rocks and sticks and burned to death with gasoline-soaked tires.
At one checkpoint in Turgeau, more than a dozen masked men with machetes stood guard. They declined to speak to the AP and warned that no images of them be taken.
It's a movement that resident Reynald Jean Pierre, 30, said he supports, adding that he was "willing to die" to protect his neighborhood from gangs.
"People are being kidnapped, people are being raped, people are being extorted, but we are not going to let it happen under our watch," he said. "We don't have another home to go to."
'LAWLESS' HAITI PLAGUED BY CORRUPTION AND DEADLY GANG VIOLENCE FUELS HUMANITARIAN CRISIS
The U.N. said Haitian police estimate that there are seven major gang coalitions in the country and some 200 affiliated groups.
Residents believe that the 13 suspected gang members who were killed by the crowd Monday were members of the Kraze Barye gang, which translates to "Breaking Barriers."
Ezequiel dismissed concerns about possible retribution by gangs for Monday's killings, adding that he was saddened by the slayings of the young men he said could have been doing something productive for society.
CLICK HERE TO GET THE FOX NEWS APP
"We won this fight, but the war is not over," he said. "We are going to continue searching for gangs, and if they are still hiding, we are going to get them and make sure they don't leave alive."