Teresa Xu has filed an appeal after a hospital denied her access to freeze her eggs in a landmark case of female reproductive rights in China.
Xu was denied access to freeze her eggs because hospitals in China require a marriage license to proceed with the fertility services.
A Beijing court previously ruled that egg-freezing services, which may pose certain health risks, were only available to women who could not get pregnant naturally in China.
An unmarried Chinese woman on Tuesday began her final appeal of a hospital's denial of access to freeze her eggs five years ago in a landmark case of female reproductive rights in the country.
Teresa Xu's case has drawn broad coverage in China, including by some state media outlets, since she first brought her case to court in 2019. She lost her legal challenge last year at another Beijing court, which ruled the hospital did not violate the woman's rights in its decision.
The upcoming judgment will have strong implications for the lives of many unmarried women in China and the country's demographic changes, especially after the world's second-largest economy recorded its first population decline in decades.
NEVADA CHILDREN HAVE EXPERIENCED RARE BRAIN INFECTIONS AND ABCESSES AS CDC INVESTIGATES
In China, the law does not explicitly ban unmarried people from services like fertility treatments and simply states that a "husband and wife" can have up to three children. But hospitals and other institutions, in practice, implement the regulations in a way that requires people to present a marriage license.
Xu, who wanted to preserve her eggs so she could have the option to bear children later, is one of those facing difficulties in accessing fertility treatment.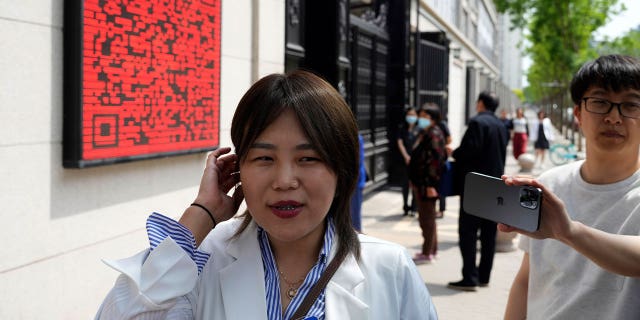 In 2018, Xu, then 30 years old, had gone to a public hospital in Beijing to ask about freezing her eggs. But after an initial check-up, she was told she could not proceed without a marriage certificate.
According to the judgment she received last year, the hospital argued that egg freezing poses certain health risks. It said that egg-freezing services were only available to women who could not get pregnant in the natural way, and not for healthy patients.
FLORIDA TODDLER ZIPS AROUND LIFE IN HIS TINY WHEELCHAIR: 'HE'S GROWN SUCH A FOLLOWING'
But it also stated that delaying pregnancy could bring risks to the mother during pregnancy and "psychological and societal problems" if there is a large age gap between parents and their child.
After Tuesday's hearing, Xu told reporters that the denial constituted a violation of her right to bodily autonomy and she chose to fight on because this matter is very important to single women.
"I also have grown up a lot as the case evolves, I don't want to give up easily," she said.
It is unclear when the court will hand down the judgment, she said.