A nonprofit group in Coronado, California, seeks to complete the first public monument dedicated to military spouses in American history. 
The bronze statue will feature members of the League of Wives, military spouses who demonstrated remarkable courage and resolve when their husbands were prisoners of war in Vietnam at the infamous "Hanoi Hilton."
The League of Wives Memorial Project has made strides in achieving the design, location and public permissions to embark on the project. 
However, without reaching their necessary fundraising goal by the end of calendar year 2023, the memorial cannot break ground.
ARMY RENAMES GEORGIA'S FORT BENNING AFTER DECORATED VIETNAM VET
"I go regularly to the mailbox in Coronado and there's always envelopes in there, and they're coming from all over the nation," League of Wives Memorial Project Treasurer Mari Fries, herself a Navy veteran and Marine Corps spouse, told Fox News Digital. "Many donations will come with notes, 'I'm sending this in honor of,' I can see that. To me, it's not so much where the checks are coming from, but the personal messages that are being included."
Coronado is the birthplace of naval aviation and formerly was a haven for Navy, Army and some Marine Corps wives whose husbands were held as prisoners of war or went missing in action in Vietnam.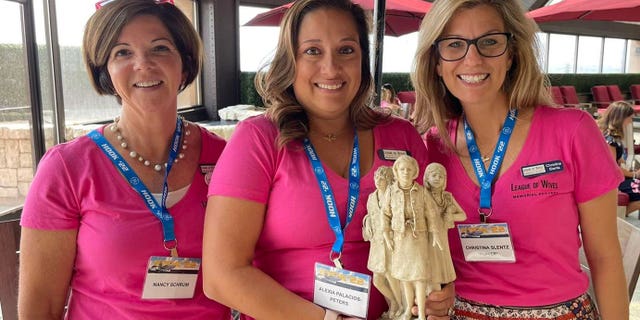 Naval aviator Vice Admiral James Stockdale's plane was shot down in late 1965 alongside countless others service members imprisoned at the Hỏa Lò Prison, referred to as the "Hanoi Hilton" by its American inhabitants. 
A sisterhood led by Sybil Stockdale, the wife of the vice admiral and mother of four, emerged from the tragedy of war. 
They called themselves "The League of Wives," and fought against the era's social mores and the "Keep Quiet" policy to help bring their husbands and ultimately almost 600 service members back home. 
Using methods supplied by both naval intelligence and their own wit, these "waiting wives" sent letters to their husbands at the Hanoi Hilton using coded messages and invisible ink.
COINS LEFT ON GRAVESTONES: WHAT DOES IT MEAN AND WHY DO PEOPLE DO IT?
Despite their brave efforts, one of the original League Of Wives, Sherry White, shared in author and historian Heath Hardage Lee's eponymous nonfiction book that "[The League of Wives] were an exclusive club that no one wanted to belong to." 
In the years of waiting between capture and release, military wives and mothers moved their homes from bases across the country to share a community together in Coronado. Eventually, the League focused its efforts on both the media and the Johnson and Nixon administrations.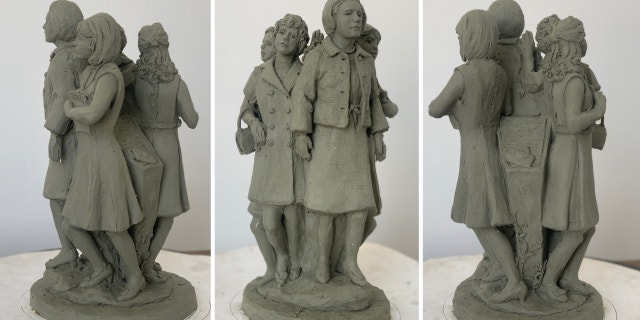 "The Geneva Conventions of war, which the North Vietnamese had agreed to, that guaranteed them rights, were being totally ignored," said Lee in an exclusive interview with Fox News Digital. "So, the women, after a year or even more of this 'Keep Quiet' policy, wives like Sybil Stockdale said, 'we're not doing this anymore. We are going to go from the keep quiet policy to our own go public policy,' which meant they would go to the media, go to journalists, and share what is going on that the world needs to know."
The pressure campaign paid off in both the short and long term for those imprisoned service members.
Honored Hanoi Hilton Navy veteran John McCain shared his experiences as a POW after the public intervention of the League of Wives as part of a 2016 interview, "Our treatment changed dramatically. It went from bad — in my case solitary confinement — to being with 25 others… some of us may not have been alive were it not for that change in treatment."
While so many did not see their loved service members return home, those who touched American soil once more were given a hero's welcome during the Nixon administration under Operation Homecoming beginning in 1973. 
Coronado went from waiting wives to a thriving military family community.
Coronado remains one of the cities with the highest enlisted populations in the country, with celebrations for Memorial Day and the Fourth of July drawing thousands of visitors nationwide. 
Friday, May 12, is Military Spouse Appreciation Day. President Reagan recognized Military Spouse Appreciation Day as the Friday before Mother's Day starting in 1984.
"To add the League of Wives statue to [Star] Park is incredibly big, because so many of the wives in Coronado at that time in Vietnam had lost their husbands or their sons to the conflict in Vietnam," Coronado Mayor Richard Bailey told Fox News Digital in his reasoning behind the planned location of the memorial project.
"This is where the League of Wives began to advocate and helped bring this whole thing — it is very fitting that this memorial displays star power to complement the other military history we have."
CLICK HERE TO GET THE FOX NEWS APP
For more information about the League of Wives Memorial Project, go to www.leagueofwives.com.