Cyprus is working together with Irish and U.S. military experts to help train two groups of Ukrainian personnel in clearing an untold number of unmarked minefields in their homeland, the island nation's defense minister said Friday.
Replying to an Associated Press query, Minister Michalis Georgallas said a first group of 24 Ukrainians was currently undergoing training in Cypriot military installations, with another group expected to arrive next month.
The training was under the auspices of a European Union Military Assistance Mission (EUMAM Ukraine) that was launched last October to meet Ukraine's calls for support, he said.
UKRAINE INVASION PROVING 'VERY, VERY DIFFICULT,' KREMLIN SPOX SAYS IN RARE ADMISSION
As the situation on the ground in Ukraine now stands, a 5,000-strong team of demining experts would need at least 30 years to clear all mines from unmarked minefields across the front lines, Georgallas said.
He said Cypriot officers are also taking part in training of Ukrainian personnel in Germany.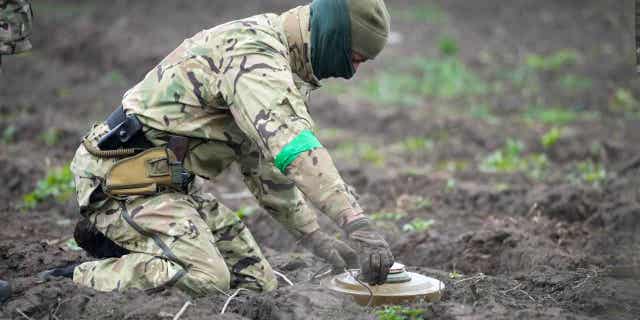 Cyprus has much experience in demining as many thousands of the deadly munitions remain. The mines are a vestige of defenses set up in the wake of the 1974 Turkish invasion triggered by a coup that aimed to unite Cyprus with Greece.
The United Nations have for years assisted in demining efforts, particularly inside a buffer zone it controls that separates a breakaway, Turkish Cypriot north and an internationally recognized, Greek Cypriot south.
US PROVIDING UKRAINE $1.2B IN MILITARY AID AHEAD OF EXPECTED SPRING OFFENSIVE AGAINST RUSSIA
Meanwhile, Ukrainian President Volodymyr Zelenskyy said Kyiv was delaying its long-awaited counteroffensive against Russia's occupying forces because it lacked enough Western weapons to succeed without taking too many casualties.
A Ukrainian counteroffensive against Russia's more than 14-month-old invasion has been expected since warmer weather improved battlefield conditions. But Zelenskyy told European broadcasters in an interview aired Thursday that a counteroffensive now would result in too many casualties and that would be "unacceptable."
The Ukrainian president said more time was needed since "not everything has arrived yet" in terms of equipment.
CLICK HERE TO GET THE FOX NEWS APP
Ukraine's troops are receiving Western training, as well as advanced weapons, as they gear up for an assault.
Cyprus has said it won't transfer its Soviet-era tanks, armored personnel carriers and anti-aircraft missile batteries to Ukraine because it continues to face off against 35,000 Turkish troops deployed in the north.