A Ukrainian delegate was captured on video punching a Russian official in the face after his country's flag was taken from him while trying to photobomb a video interview with the lead delegate from Moscow. 
The incident involving Olesandr Marikovski happened Thursday at an Organization of the Black Sea Economic Cooperation meeting in Ankara, Turkey, according to Reuters. 
The footage showed a man walking up to Marikovski as he held his Ukrainian flag behind Russian delegate Olga Timofeeva.  
The man then grabbed the flag and started walking away, but Marikovski caught up to him and started swinging his fists. 
RUSSIA BLAMES US FOR ALLEGED PUTIN DRONE ASSASSINATION ATTEMPT, WHITE HOUSE CALLS CLAIM 'LUDICROUS'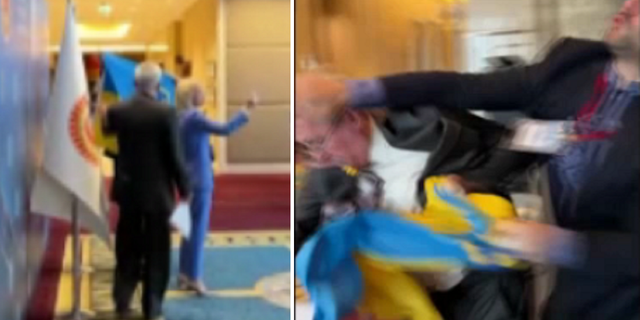 He eventually retrieved the flag and bystanders intervened to separate the pair. 
Earlier Thursday, other Ukrainian delegates were seen engaging with security while standing with their country's flag and protesting as Timofeeva tried to address the assembly. 
The actions drew condemnation from Mustafa Sentop, the president of the Turkish Grand National Assembly. 
"I condemn this behavior that disrupts the peaceful environment that Turkey is trying to establish," Reuters quoted him as saying. 
The Organization of the Black Sea Economic Cooperation, on its website, said it is "working together towards peace, stability and prosperity in the Black Sea region." 
Its member states include Russia, Turkey, Ukraine and its neighbors, such as Romania and Moldova. 
NEWSPAPER USES VIDEO GAME TO SMUGGLE UKRAINE WAR TRUTHS TO RUSSIAN CITIZENS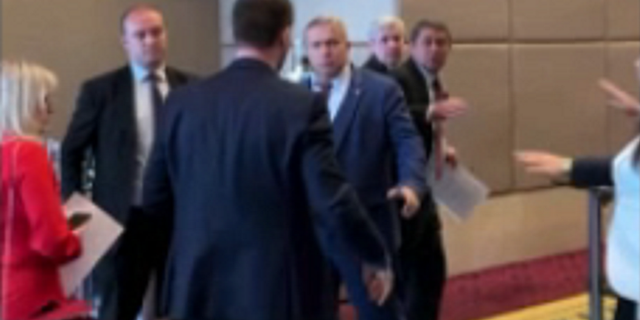 The incidents come as Russian leaders are speculating that the U.S. is behind an alleged attack on President Vladimir Putin's life.  
Unconfirmed videos have been circulating online appearing to show a drone being shot down over the Kremlin and smoke rising in Moscow. 
No injuries or damage to Putin's residence were reported. The Russian leader was seen in video and photos released Wednesday meeting with a regional governor outside Moscow. 
The Kremlin claims a drone attempted to assassinate Putin on Thursday, originally speculating it was an attack by Ukraine forces.  
"We know that often it isn't even Kyiv that determines the targets, but Washington," Dmitry Peskov, press secretary of the president of the Russian Federation, said at a briefing, according to the Moscow Times. 
He continued, "It's very important that Washington understands that we know this and understands how dangerous such direct involvement in the conflict is." 
National Security Council spokesman John Kirby told CNN Thursday that Peskov is "lying."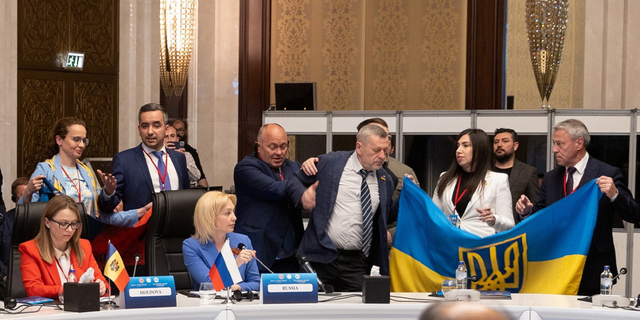 CLICK HERE TO GET THE FOX NEWS APP 
"There's a word that comes to mind that I'm obviously, not appropriate to use on national TV," Kirby said when asked for his reaction. 
"Obviously it's a ludicrous claim," Kirby continued. "The United States had nothing to do with this. We don't even know exactly what happened here… but I can assure you the United States had had no role in it whatsoever.… We neither encourage nor do we enable Ukraine to strike outside Ukraine's borders." 
Fox News' Timothy H.J. Nerozzi contributed to this report.