Stephen Curry scored 31 points, Draymond Green had his highest-scoring game in more than five years and the Golden State Warriors won the first road game of their series against Sacramento, beating the Kings 123-116 Wednesday night to take a 3-2 lead.
Green had 21 points and seven assists in his first game back in Sacramento since getting ejected and later suspended for stepping on Domantas Sabonis' chest in a Game 2 loss.
Golden State now can try to wrap up the series with a fourth straight win at home on Friday night.
The defending champion Warriors withstood another raucous crowd in Sacramento and showed off their road mettle that had been missing so often this season.
CLICK HERE FOR MORE SPORTS COVERAGE ON FOXNEWS.COM
Golden State won only 11 games away from home in the regular season and lost the first two games in Sacramento before making the key plays in the second half to beat the Kings and extend their record to 28 straight playoff series with at least one road win.
The Kings trailed by 12 early in the fourth quarter after a layup by Curry but wouldn't go away. They chipped away at the deficit behind 11 points in the next five minutes from Monk — who went down briefly with what looked like a left knee injury — to make it a one-point game with just over four minutes left.
STEPH CURRY NEARLY COSTS WARRIORS GAME 4 WIN WITH CHRIS WEBBER-LIKE FLUB
But the Warriors pulled away late after Monk missed a potential game-tying 3 with 1:04 to play.
Andrew Wiggins made a turnaround jumper to make it a five-point game and Curry put it away with a three-point play with 22.1 seconds left that made it 122-114.
Klay Thompson added 25 points, Wiggins had 20 and Kevon Looney matched his career-high with 22 rebounds.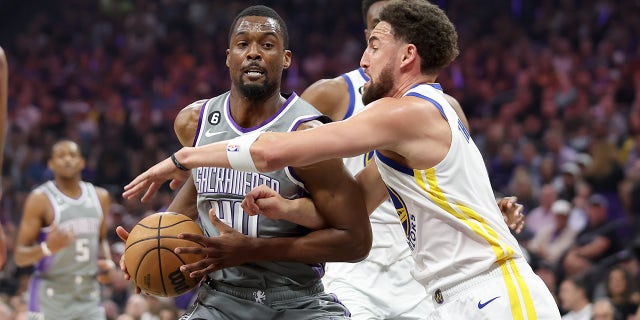 De'Aaron Fox scored 24 despite a broken index finger on his shooting hand, and Monk and Sabonis added 21 points apiece for Sacramento.
Fox got the start despite breaking the tip of the index finger on his shooting hand late in Game 4. He played with a splint on the finger and showed no ill effects from the injury, making all three of his attempts from long range in the first quarter to help Sacramento build a 10-point lead.
The Warriors got going in the second quarter with Thompson making three 3-pointers during a 12-0 run that helped Golden State take a 60-56 lead at the half.
TIP-INS
Warriors: Curry moved past Magic Johnson (3,701) into fifth-place all-time in playoff scoring with 3,727 points… Looney became the first Warriors player with two games with at least 20 rebounds in the same playoff series since Nate Thurmond did it against Milwaukee in 1972… Golden State got called for two transition take fouls in the fourth quarter.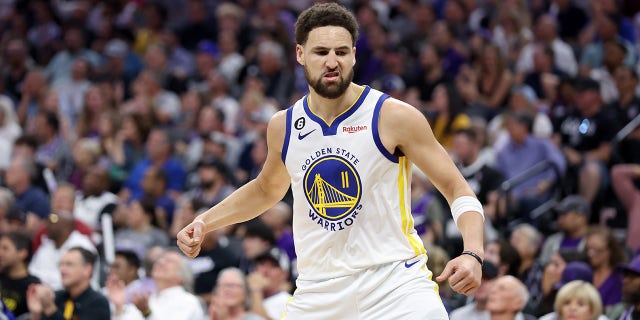 Kings: Sacramento went from shooting 8 for 12 from 3-point range in the first quarter to 0 for 9 in the second quarter — the Kings' most misses without a make in any quarter this season.
CLICK HERE TO GET THE FOX NEWS APP
UP NEXT
With a win on Friday night, the Warriors would improve to 19-0 in playoff series against Western Conference teams since coach Steve Kerr took over in 2014-15.