The Kentucky Derby is a tradition that's never been canceled.
Postponed once by World War II and again by the coronavirus pandemic in 2020, America's greatest race has rolled on since 1875.
BOB BAFFERT DENIES KENTUCKY DERBY CHEATING ALLEGATIONS, BLAMES SPREAD OF 'FALSE NARRATIVE'
At Churchill Downs on Saturday, 20 horses will compete to wear the garland of red roses in the 149th edition. But the race will again be without the sport's best known and hugely successful figure for nearly three decades.
Bob Baffert trained American Pharoah to the first Triple Crown sweep in 37 years in 2015. He repeated the feat with Justify in 2018. In all, the white-haired trainer has won 16 Triple Crown races. Yet Baffert is still serving a two-year suspension from Churchill Downs.
"I've just moved on," the 70-year-old Hall of Fame trainer told The Associated Press recently, declining to elaborate.
His reverence for the Derby is obvious: "There's no more exciting moment when you have a horse that has a chance to win the Derby," he said, having officially won it a record-tying six times.
Baffert will sit out for a second straight year. Read on to find out why.
WHY IS BAFFERT STILL BANNED FROM THE DERBY?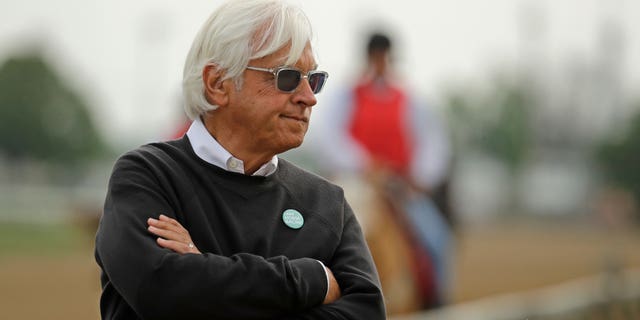 Churchill Downs Inc. prohibited him from entering horses at any of its tracks for two years after his 2021 Derby winner Medina Spirit failed a post-race drug test. The horse was later disqualified from that victory in a ruling handed down last year.
Medina Spirit tested positive for an anti-inflammatory medication. It's considered a Class C drug, with a lesser potential to influence performance, but any level of detection on race day is a violation. Medina Spirit died after a workout in 2021.
Baffert already has served a 90-day suspension by the Kentucky Horse Racing Commission because of medication violations involving his horses. The suspension caused him to miss all the 2022 Triple Crown series.
DID BAFFERT CHALLENGE HIS PUNISHMENTS?
Yes, on several fronts.
He made multiple attempts in Kentucky to overturn the track's ban and his suspension. He also was unsuccessful in suing Churchill Downs Inc. in federal court, with a judge denying his injunction.
7 SECRETS OF KENTUCKY DERBY RACEHORSES
Baffert was suspended for a year by the New York Racing Association for repeated medication violations, although none occurred in that state. That penalty expired in January.
Medina Spirit's Derby disqualification remains on appeal.
WHAT WERE THE EFFECTS OF PUNISHMENTS?
Last year, Baffert had purse earnings of $9.7 million, which ranked him 12th among trainers nationally according to Equibase. That's despite missing three months while serving his suspension.
"They've hurt my reputation," Baffert testified in federal court in February. "My horses should've made much more money. I didn't run for 90 days, and I had to let people go."
In 2021, his stable earned $14.6 million. So far this year, it has earned $4 million.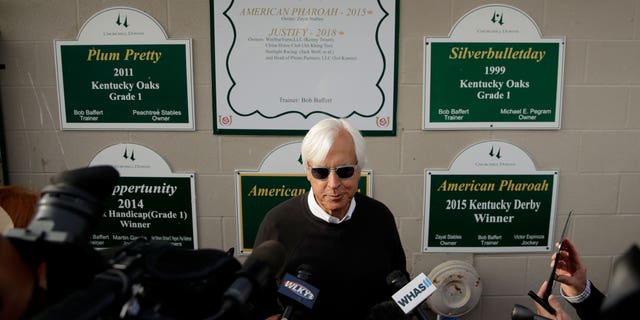 Several owners have remained loyal to Baffert, entrusting their expensive horses to him in the hopes of winning Triple Crown and Breeders' Cup races. Horses he turned over to other trainers while suspended have come back to his barn.
But Medina Spirit's failed drug test and Baffert's punishments generated plenty of unflattering headlines for a sport desperate to appeal to a younger audience and to show it cares for its equine athletes.
WHAT ABOUT NEW ANTIDOPING RULES?
Horse racing's new antidoping rules won't take effect until May 22 — two days after the Preakness, the second leg of the Triple Crown.
Under the Horseracing Integrity and Safety Act that was created by the federal government nearly three years ago, antidoping and medication rules will be uniform nationwide. Penalties will be doled out to horses and trainers by HISA's independent enforcement agency with the goal of speedier test results, rulings and appeals.
While it's hard to say exactly how Baffert would have fared had the new rules been in place in 2021, surely it would not have taken nine months for Kentucky racing officials to decide to disqualify Medina Spirit and suspend the trainer for 90 days.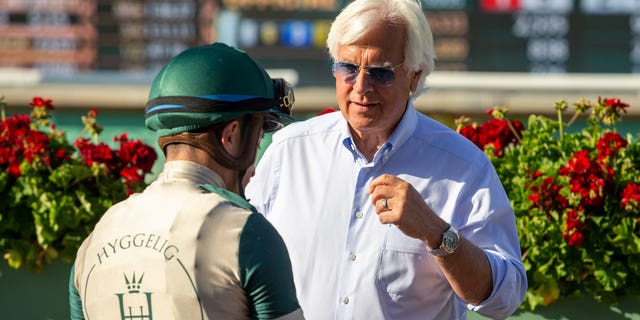 WILL ANY FORMER BAFFERT HORSES RUN IN THE DERBY?
Yes. Reincarnate, a 50-1 shot, is a Derby starter who was previously trained by Baffert. He'll be saddled by Tim Yakteen, a former Baffert assistant who also has his own entry, Practical Move, the early co-fourth choice at 10-1.
Last year, Yakteen saddled two Baffert horses: Taiba and Messier.
A new rule required all suspended trainers to transfer horses to non-suspended trainers by Feb. 28 in order for those horses to be eligible to race at Churchill Downs.
Baffert saddled his first horse in the Derby in 1996. This will be only the seventh time he hasn't had an entry.
WHEN DOES BAFFERT'S TRIPLE CROWN EXILE END?
May 20 in Baltimore. He is pointing National Treasure toward the Preakness that day, making it nearly two years since Baffert entered a Triple Crown race. He'll also have a filly in the Black-Eyed Susan on the undercard. Baffert owns a record-tying seven victories in the Preakness.
The Belmont Stakes, a race Baffert has won three times, is June 10 in New York.
WILL HE WATCH THE KENTUCKY DERBY?
Yes, like last year, the California-based Baffert plans to watch the race on TV with family and friends.
CLICK HERE TO GET THE FOX NEWS APP
WHEN CAN HE RETURN TO CHURCHILL DOWNS?
Baffert's suspension ends July 3, the last day of the track's spring meet.