Vacationers were mostly able to return to their campsites Tuesday after a wildfire ripped through 1,235 acres of land near the seaside resort of Argeles-sur-Mer in southern France, close to the border with Spain, authorities said.
Up to 3,000 vacationers on four campsites had been evacuated on Monday evening as a precaution. Authorities said Tuesday that the fire was contained overnight but remains under close surveillance.
Local firefighters said one of the campsites and one house were destroyed by the blaze.
STRONG GUSTS OF WIND CAUSE GREEK WILDFIRES TO FLARE UP, EU DETECTS STEEP INCREASE IN CARBON EMISSIONS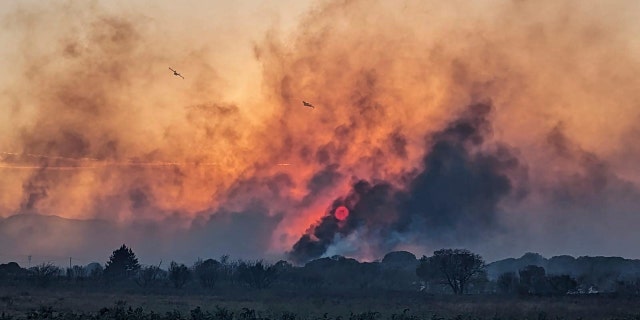 CLICK HERE TO GET THE FOX NEWS APP
That has left about 350 to 400 people without accommodation, Rodrigue Furcy, head of the administration in the Pyrenees-Orientales region, told local radio France Bleu Roussillon.
They are being looked after by the Argeles-sur-Mer city hall, according to authorities.
More than 600 firefighters, 11 firefighting aircraft and three helicopters were deployed at the popular tourist area as a combination of extremely hot weather, drought and strong winds led the flames to spread rapidly, authorities said.