During the pandemic, millions of taxpayer dollars were pumped into a program to hire thousands of doctors and nurses ran by the National Health Services Corp. 
The program promised to pay $50,000 in medical school debt for every two years that a doctor served working in rural, poor, or urban areas.
With the funding for the program ending in September, President Joe Biden requested that Congress sign off an extra half-billion in his budget to keep the program running.
Thousands of women living in rural, eastern Maryland have few options when they're looking for someone to deliver their babies.
The local hospital doesn't have an obstetrics doctor on staff so most women in this region, flanked by sprawling farm fields and antique stores, turn to the Chesapeake Health Care clinic.
Five of the 10 obstetricians and midwives at the clinic are there because of the National Health Service Corps, which promises to pay off $50,000 in medical school debt for every two years that a doctor serves working in rural, urban or poor areas.
"OB is frightfully difficult to recruit, and I'm not real sure exactly why," said the clinic's chief medical officer Dr. Lee Jennings. "We're isolated, we're in an area where we're the only OB group in the entire area."
Over the last three years, millions of taxpayer dollars were pumped into the National Health Service Corps to hire thousands more doctors and nurses willing to serve the country's most desperate regions during the COVID-19 pandemic in exchange for forgiving medical school debts. Now, with the health emergency over, the program's expansion is in jeopardy – even as people struggle to get timely and quality care because of an industry-wide dearth of workers.
Funding for the program expires at the end of September, although President Joe Biden asked Congress to sign off an extra half-billion dollar for the project in his budget.
The number of nurses, physician, dentists, counselors, and midwives has ballooned thanks to an extra $800 million the U.S. Congress kicked to the program in stimulus packages unveiled as coronavirus raged. Last year, just over 20,000 people were corps members – up 50% from 13,000 people in 2019.
DIRE SHORTAGE OF INFECTIOUS DISEASE SPECIALISTS IN US, FOR 'COMPLEX' REASONS
The program has placed medical professionals across a variety of disciplines – from occupational therapists in Ohio to counselors who treat drug and alcohol addictions in Alaska – in community health centers around the country. Those clinics receive federal funding to provide primary care for patients, regardless of their health insurance status or ability to pay.
The program has found rare bipartisan support from Republican and Democratic lawmakers who say they're grateful for the void corps members fill in rural and needy communities alike that are coping with shortages. The U.S. is short thousands of family doctors, OB-GYNs and nurses, a problem that is only expected to worsen over the next decade.
Sen. Bernie Sanders of Vermont, who oversees the powerful Health, Education, Labor and Pensions Committee, has made the issue a top talking point in hearings. Sanders said in his state, people have complained to him about waits as long as five months just to get a physical with a doctor.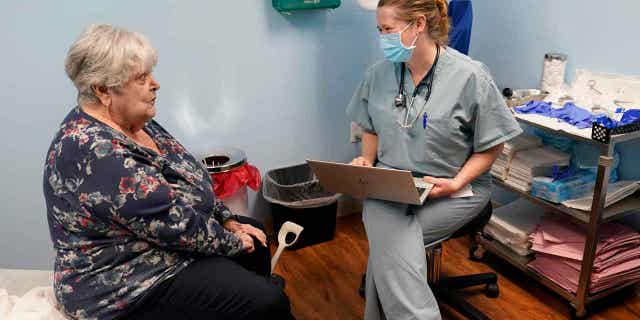 The situation would worsen, he told The Associated Press, if corps funding is not renewed and increased.
"People are going to struggle to find a dentist, to find a mental health counselor," Sanders said. "If it's bad now, it's only going to get worse."
Last month, a group of House Republicans sponsored a bill that would continue funding for the corps program, but not give it the same cash infusion that Biden has requested.
"One of the most consistent issues I've heard in my district in Pennsylvania is the shortage of physician and health care workers," Republican Rep. John Joyce, who introduced the bill, said during a congressional hearing on the health care worker shortage last month.
Still, the program's future is hanging in the balance with a split Congress that's just weeks away from allowing the U.S. to default on its debts. Uncertainty around funding for the program also makes it difficult for health clinics to recruit providers, said Carole Johnson, who heads up the federal Health Resources and Services Administration that oversees corps funding.
YEARLY COVID VACCINE AS PROPOSED BY FDA? 'CART BEFORE THE HORSE,' SAYS DOCTOR 
"We're hopeful to continue to grow. We know there's a net demand out there," Johnson said. "All the conversations that we've had have been very positive; that doesn't make it easy."
One of the largest areas of growth for the program has been in mental health, with more than 2,000 additional counselors, social workers, psychologists, and substance abuse counselors being hired over the past four years.
At Chicago's largest, around-the-clock treatment center, about eight of the Haymarket Center's providers are corps members. The center sees roughly 12,000 patients every year, many of them homeless. The corps program allows the not-for-profit Haymarket Center to recruit health care workers in a competitive market with a different benefit: as much as $250,000 in student loan repayment, said Jeffrey Collord, the vice president of operations at the center.
"We might not be able to compensate staff at the highest levels so being able to be part of the program allows us to provide a benefit that other sites don't have access to," Collord said.
Student loan forgiveness allowed Dr. Stephen Robinson to be the family physician that he always hoped to be. He worried through medical school about the mountain of student loan debt that was piling up and watched as many of his classmates pursued more lucrative salaries as specialty doctors. But his dad researched alternatives and discovered the National Health Service Corps program.
CLICK HERE TO GET THE FOX NEWS APP
"If more providers thought they could come out and still be able to pay off their debt, they'd go into primary services," Robinson said. "This has allowed us to do that."
His wife, Caitlin, is one of the coveted OB-GYNs that Chesapeake Health Care recruited through the program. Pregnant women drive as much as an hour to see her.
Both are now nearly debt-free after spending seven years in the program. But they don't plan on leaving this small Maryland town anytime soon. The Robinsons love raising their children close to the shore, fresh air and parks.
"We have no plans on going anywhere, even though we're done," Stephen Robinson said.