Zimbabwe will launch a digital currency next month by introducing "tokens" that are backed by gold reserves and can be transferred between people and businesses as a form of payment, the country's central bank said Friday.
The move is aimed at shoring up Zimbabwe's faltering national currency, the Zimbabwe dollar, which is fast depreciating amid yearslong economic woes in the southern African nation.
The Bahamas, Jamaica and Nigeria have already launched digital currencies backed by their central banks, with several other countries, including China, running trial projects. The United Kingdom is moving closer to it by asking for public input on the idea. The U.S. and European Union are considering similar moves.
POLITICIANS ARE QUIETLY PREPARING FOR A DIGITAL DOLLAR. IT'S NOT GOOD FOR YOUR FREEDOM
In Zimbabwe, the new tokens "will be fully backed by physical gold held by the bank" and will go into circulation on May 8, Reserve Bank of Zimbabwe Gov. John Mangudya said. People can buy the tokens and use them as a way to save their money or conduct "person-to-person and person-to-business transactions and settlements," Mangudya said.
People will be able to buy the tokens through banks and make transactions using "e-gold wallets or e-gold cards" held by banks, he said.
Trust in Zimbabwe's currency is desperately low after people in 2008 had their savings wiped out by hyperinflation, which reached 5 billion percent, according to the International Monetary Fund, nearly a world record.
The hyperinflation resulted in the country at one point issuing a 100 trillion Zimbabwe dollars banknote before the government was forced to temporarily scrap its currency and allow the U.S. dollar to be used as legal tender.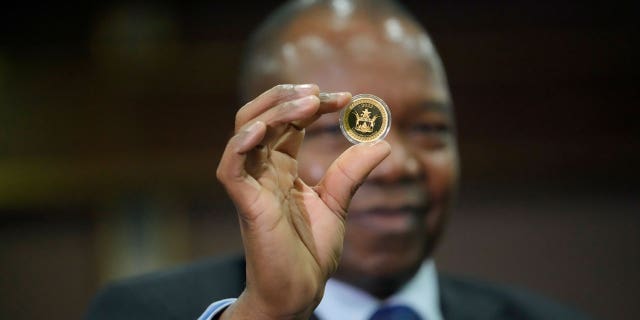 In 2019, the government reintroduced a Zimbabwean currency and banned foreign currencies for local transactions. But few took heed and the black market thrived, while the local currency quickly devalued. The government relented and unbanned the U.S. dollar.
With memories of that disastrous inflation, many people today prefer to seek scarce U.S. dollars on the illegal market to keep at home as savings or for daily transactions, where U.S. currency is still used. Faith in the Zimbabwe dollar is so low that many retailers and even some government institutions don't accept it.
On the official market, the exchange rate is just over 1,000 Zimbabwe dollars to the U.S. dollar. However, it's about double that amount of local currency on the illegal — but flourishing — street market, where greenbacks are readily available.
NIGERIA RESTRICTS ATM WITHDRAWALS TO $45 PER DAY IN PUSH TO DIGITAL CURRENCY
Zimbabwe has tried to stave off the depreciation of its currency with unusual ideas before. In July 2022, it launched gold coins as legal tender to stabilize the local currency. But many people struggling to buy everyday basics such as bread found them too pricey.
The introduction of the digital currency will ensure that "those with low amounts" of money can trade them "so that we leave no one and no place behind," Mangudya told Zimbabwe's The Sunday Mail newspaper last weekend.
International gold prices determined by the London Bullion Market Association will dictate the local pricing of the tokens, Mangudya said.
CLICK HERE TO GET THE FOX NEWS APP
More than 80% of the world's central banks are considering issuing digital currencies or have already done so, the consultancy PwC said in a report last year.