A report released Thursday into a deadly shooting during Oslo's annual LGBTQ+ Pride festival last year blasted Norway's domestic security agency, saying it had intelligence an attack was imminent and could have prevented the bloodshed.
The report focused on how the police and the Norwegian Police Security Service handled the June 25, 2022, attack in which two people were killed and 20 wounded. The report was commissioned by the Norwegian police.
It said the domestic security agency, known by its Norwegian acronym PST, had been warned by the Norwegian Intelligence Service during an emergency meeting that an "operation" was about to take place in a Scandinavian country, with several clues pointing at Norway.
NORWAY INCREASES MILITARY PREPAREDNESS, STRESSES IMPORTANCE OF VIGILANCE
The attack could have been averted "following a notification PST received from the Norwegian Intelligence Service five days before the attack occurred," the report stated.
Norwegian Justice Minister Emile Enger Mehl called the report "serious" and said she would follow up the conclusions.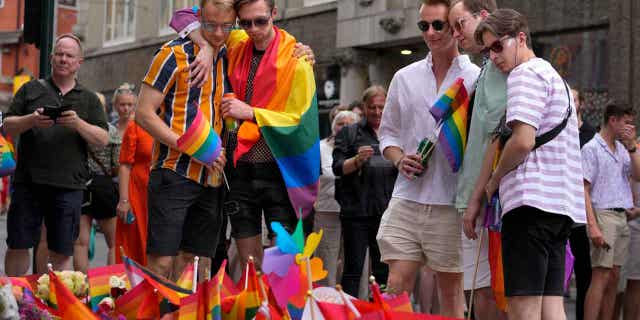 "The attack took lives, and has hit the queer community in particular," she said.
QUEEN OF NORWAY'S US TOUR CONCLUDES: "WE SHARE HOPES, FEARS, VALUES, AND DREAMS FOR THE FUTURE"
A Norwegian citizen originally from Iran, Zaniar Matapour, was immediately arrested after a gunman opened fire in Oslo's nightlife district while the city held its annual Pride festival. Matapour was charged with murder, attempted murder and terrorism offenses. No trial date has been set.
Three others are suspects in the case, including one who allegedly fled to Pakistan. Norway is awaiting his deportation. PST has branded he attack an "Islamist terror act."
"We at PST apologize for any misjudgments that were made," agency director Beate Gangås said.
The report also said the security agency failed to pass on its information to local police.
"Although PST relied on relevant intelligence about Matapour, PST did not share this intelligence with the radicalization contacts in the police who were responsible for following him up," the report states.