Travelers entering China will no longer need to provide a negative PCR test result starting Saturday, in another easing of China's "zero COVID" policies.
Travelers can instead show a negative antigen test result taken within 48 hours before boarding, Chinese Foreign Ministry spokesperson Mao Ning told reporters Tuesday.
Over the last three years, China imposed an array of anti-virus controls to try to eliminate the coronavirus from the country, including lockdowns and regular mass testing. But after the regulations hammered the economy and sparked protests, the government suddenly rolled back the onerous measures in December and made a major step to drop its quarantine rule in early January.
CHINA, UKRAINE ON MAINSTAGE AS SOUTH KOREA'S PRESIDENT VISITS BIDEN, ADDRESSES CONGRESS FOR 1ST TIME IN DECADE
Last month, the country resumed issuing all types of visas as part of its efforts to revive tourism. Still, it kept PCR testing requirements for passengers arriving from some countries, a costly requirement that was a major deterrent for visitors.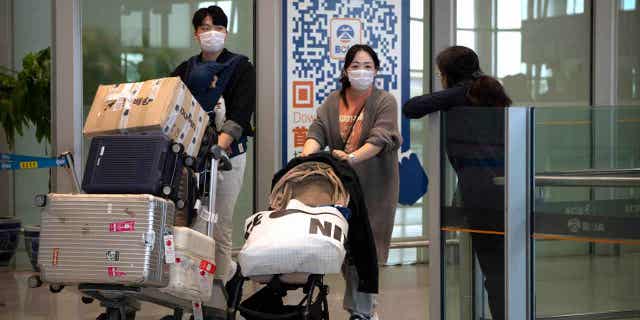 PCR tests are highly accurate but cost time and money, while antigen tests are easier to obtain.
CHINA VOWS 'STRONG' MEASURES AFTER MCCARTHY MEETS TAIWAN'S TSAI ING WEN 
"To further facilitate cross-border travel, China is taking new steps to refine pre-departure testing requirements guided by the principle of ensuring safe and orderly travel and keeping the measures science based and well targeted," Mao said.
She added that airlines will no longer be required to check test results before departure.
CLICK HERE TO GET THE FOX NEWS APP
At a briefing on Wednesday, He Qinghua, an official of the National Health Commission, said the number of COVID-19 cases in early April had dropped to the lowest level since December. Although the figures have risen slightly since mid-April, massive outbreaks in the short term are unlikely, he said.