If you've ever lost your wallet, you know the disruption and inconvenience that it causes. However, you may not even realize how dangerous losing your wallet can be when it comes to protecting your personal privacy. There could be major consequences way worse than having to call and cancel a credit card, so be sure you take any of the following items out of your wallet today. 
CLICK TO GET KURT'S FREE CYBERGUY NEWSLETTER WITH SECURITY ALERTS, QUICK TIPS, TECH REVIEWS AND EASY HOW-TO'S TO MAKE YOU SMARTER 
Take these 10 items out of your wallet 
1. Extra credit and debit cards 
It's a good idea to only carry the credit and debit cards you use regularly. That way, if you lose your wallet, you'll have fewer cards to cancel and replace. Plus, leaving the other ones at home makes it less easy for a criminal to gain access to multiple bank accounts and credit lines. Also, it'll be easier to keep track of your spending if you're only using a few cards. So, go ahead and take out those extra cards, and store them in a safe place at home. You'll thank yourself later.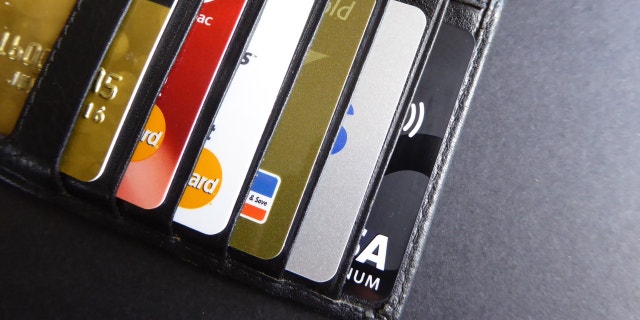 2. Social Security card 
There are rare days you'll ever need to have your physical social security card. Memorizing the numbers is enough, and leaving it in a fire-proof safe with other important documents is the best option when it comes to your SSN. There are a ton of social security scams out there, and carrying the physical card makes your number way more accessible for any criminals hoping to get their hands on your identity. You can check out my top recommendations for safeguarding against social security fraud by clicking here.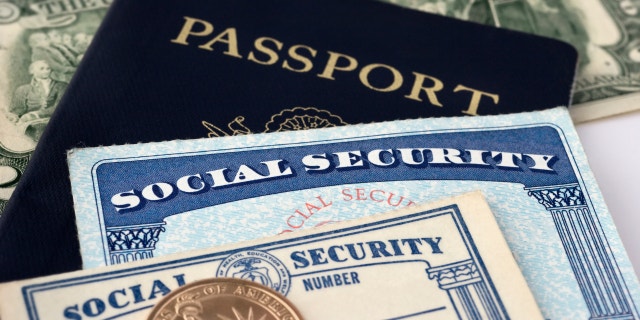 3. Passport 
If you have a passport or even a more conveniently sized passport ID card, you should definitely not carry that around as your main form of identity. Replacing a passport takes a lot more effort than replacing a lost driver's license. It could also cause problems related to identity theft or disrupt your future travel plans. 
MORE: THIS CREDIT CARD CAN HEAR WHAT YOU ARE SAYING AND IT'S COMING TO A WALLET NEAR YOU 
4. Blank check 
If you carry a checkbook or even a blank check "just in case," and you were to lose it, you've just given any thief full access to your account. Someone can write a check to themselves and cash it before you're even aware it may be missing. It is important to keep track of your checks and monitor your account regularly to prevent any unauthorized transactions. 
5. Birth certificate 
Just like your Social Security card, your birth certificate should be placed in a fireproof safe and should never be carried in your physical wallet. If it is stolen, thieves could do some major damage to your finances if they have it in conjunction with other personal information such as your name, address and date of birth. That could lead to identity theft and other fraudulent activities. 
6. Unredeemed gift cards 
If you have gift cards that haven't been fully redeemed, and you aren't planning on using them immediately, don't carry them in your wallet. Leave them in an easily accessible location labeled with how much money is left, instead of carrying them around. Gift cards are the same value as cash, and if your wallet gets stolen, you've just lost free money to a criminal, in addition to everything else in your wallet. 
MORE: THE BEST WAY TO BUY GIFT CARDS EVER 
7. Library card 
While this may have less-serious effects, a criminal could use a library card maliciously by borrowing a number of books and reselling them instead of returning them.  That could result in a loss of resources for the library and its visitors. 
MORE: FREE DIGITAL PERSK YOU MAY BE MISSING OUT ON BY NOT HAVING A LIBRARY CARD 
8. Medicare card 
Don't carry a Medicare card in your wallet. While Medicare cards no longer display your social security card, losing yours could still have detrimental consequences, including someone fraudulently using your Medicare benefits if they were to get ahold of your card. 
9. Passwords  
If you write a list of passwords down, don't keep the physical list in your wallet. If you do, and your wallet is lost or stolen, you've given someone direct access to so many of your accounts, and it could result in them being compromised. Instead, consider using a password manager, which securely stores and generates complex passwords, reducing the risk of password reuse. Check out the best expert-reviewed password managers of 2023 at Cyberguy.com/Passwords. 
10. Membership cards 
It's a good idea to avoid carrying membership cards for gyms, clubs or other organizations in your wallet. These cards often contain personal information such as your name, address and phone number. If your wallet is lost or stolen, this information could be used for identity theft. It's best to only carry the membership cards you use regularly and leave the others at home in a safe place. 
MORE: HOW TO GET RID OF ROBOCALLS WITH APPS AND DATA REMOVAL SERVICES 
Where to store items instead of your physical wallet 
Digital Wallet 
If you have a smartphone, consider a digital wallet if you don't already use one. Apple and Android phones have a free wallet app available, and you can keep important things stored on them for easy access like the following: 
Credit/debit cards to tap-to-pay 
Vaccine cards 
Boarding passes 
ID cards and licenses (in some states) 
Loyalty cards 
Tickets to events 
iPhone: 3.1 stars (at time of publishing)  
The Apple Wallet app comes pre-installed on iPhones and Apple Watches and lets you store things like digital currency, credit/debit and loyalty cards and other personal info in a virtual wallet. Adding cards or passes is easy. Be sure to check out the steps on how to add your credit cards and loyalty passes to your iPhone by clicking here.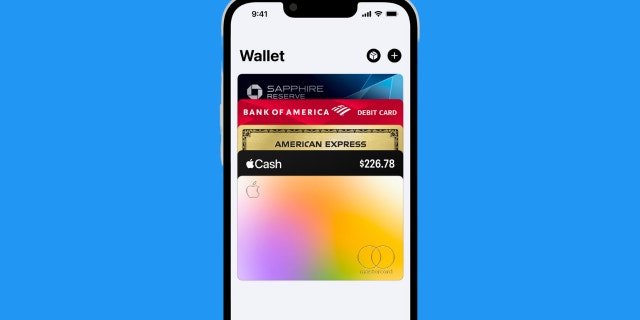 MORE: HOW TO ADD YOUR CREDIT CARDS AND LOYALTY PASSES TO YOUR IPHONE  
Google Wallet is a handy tool developed by Google that lets you store all sorts of things, like payment cards for use via Google Pay, as well as passes such as loyalty cards, digital keys, digital identification cards, transit passes, event tickets and health passes. Be sure to check out Google Wallet's six amazing features for Android phones here. 
Android: 4.3 stars (at time of publishing)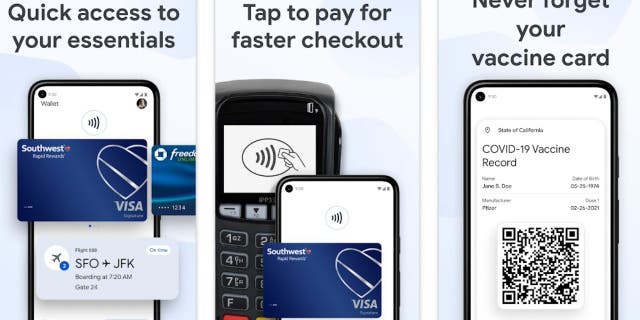 Protecting your wallet: digitally and physically 
Digital scan 
If there are important documents you often need to reference, but you don't want to keep a hard copy on you, scan it. I have a scan of my passport on my phone in a locked note in case I ever need to access it. Follow our steps for how to scan a document using your smartphone. 
Backup your wallet 
I can understand why you'd be hesitant to move your important documents digitally. If that's the case, you should make sure you're totally prepared, in case your wallet ever goes missing or is stolen. 
1) First, take inventory of everything in your wallet. Often, you put things in it and forget what's even in there, so if the time comes when you need to replace or report anything in it, you can't actually remember what was in your wallet. Keep a hard-copy list of everything in it at home. If you really want to stay organized and be prepared, include contact information when possible for whom you need to call for each item in the wallet in case it's lost. 
2) Next, make sure you've scanned every card and document you keep in your wallet (both front and back). That way, if you were to lose it, you'd have a digital copy of everything that you can access easily. 
MORE: CHECK WASHING FRAUD IS THE LATEST SCAM AIMED AT YOU 
3) Consider an RFID-blocking wallet. Even a physical wallet can be digitally pickpocketed, meaning that someone can use a device to scan your phone's wallet and rob you without you even taking it out of your pocket. RFID-blocking wallets use a layer of aluminum or carbon fiber to make it more difficult for your card's chip to be scanned without you knowing.  
Find my top recommendations at Cyberguy.com/wallets 
4) Protect yourself, and get alerted if a criminal were to open up an account in your name, by investing in identity theft protection services. Identity theft protection companies monitor your personal information, such as your home title, social security number (SSN), phone number and email address for sale on the dark web or being used to open accounts. They can also assist in freezing your bank and credit card accounts. Some providers even offer identity theft insurance and a fraud-resolution team to help with recovery.  
See my tips and best picks on how to protect yourself from identity theft by visiting Cyberguy.com/IdentityTheft. 
What if I still want to carry my physical cards with me?  
If the thought of not carrying your physical cards with you makes you too nervous, Amazon sells plenty of convenient cardholders that can stick directly to the back of your phone so that you can still carry your cards and your phone all at once.  
Check out the shortlist of cardholders we've compiled at Cyberguy.com/Cardholders. 
Kurt's key takeaways 
Losing or getting your wallet stolen can lead to big hassles and major privacy concerns. So, carrying certain items such as extra credit and debit cards, your social security card, passport, blank checks, birth certificate, unredeemed gift cards, passwords, library cards, Medicare card and membership cards is a no-no and can all pose risks. Instead, consider leaving these items at home in a safe place, and opt for using a digital wallet or a digital scan of those items on your smartphone. 
CLICK HERE TO GET THE FOX NEWS APP
Have you ever lost your wallet and experienced identity theft or fraud as a result? Do you now keep any of your important items digitally on your smartphone? Let us know by writing us at CyberGuy.com/Contact. 
For more of my tech tips and security alerts, subscribe to my free Cyberguy Report Newsletter by heading to Cyberguy.com/Newsletter. 
Copyright 2023 CyberGuy.com.  All rights reserved.